The chief executive of Japan's SoftBank Group Corp, Masayoshi Son, has become the latest and one of the highest-profile figures to pull out of a major investment forum in Saudi Arabia in the wake of the killing of Jamal Khashoggi.
Closely linked to Crown Prince Mohammed bin Salman (the pair are pictured above), Son was due to speak at the Future Investment Initiative (FII), which is in its second day in Riyadh.
But the chair reserved for him at the conference remained empty yesterday as the Khashoggi crisis deepened.
His departure raises questions over the support bin Salman can expect from investors now in his drive to modernise the Saudi economy through vast new high-tech city schemes.
SoftBank is a key ally in the crown prince's Vision 2030 plan, and had intended to invest $15bn in "Neom", a planned $500bn high-tech city to be built from scratch on the Red Sea coast.
Neom requires a massive influx of investment and business know-how, which makes SoftBank's participation crucial. Its Vision Fund is considered to be the world's largest tech fund, injecting capital into innovative start-ups of the kind bin Salman wants at Neom and other planned new cities.
Investment has flowed the other way, too, with the the Saudi Public Investment Fund (PIF) having agreed to invest $45bn in Son's Vision Fund, while the pair collaborate on huge new-economy projects, reports Reuters.
But the relationship may prove costly for SoftBank, whose shares began a steep dive earlier this month when the disappearance of Khashoggi, a Saudi dissident and journalist, began hitting headlines.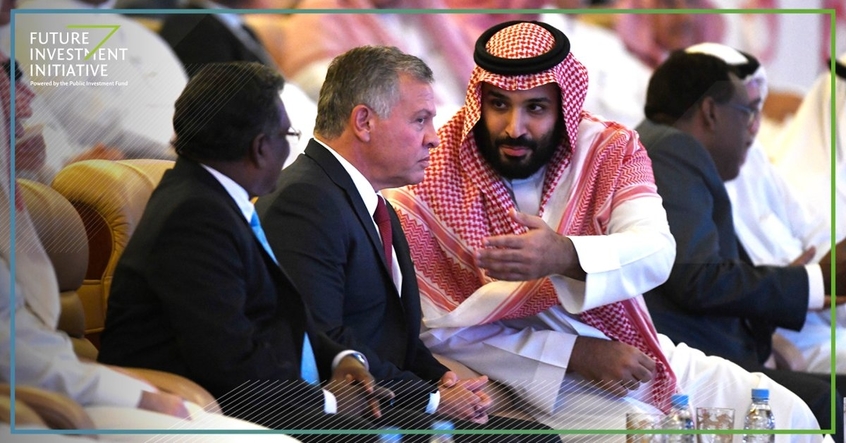 Crown Prince Mohammed bin Salman, right, speaks to King Abdullah II of Jordan during a brief attendance yesterday at the FII conference in Riyadh (Twitter/@FIIKSA)
"If the Saudis are implicated in the murder, you might find a lot of investors not willing to take their money," Chris Lane, an analyst at Sanford C. Bernstein & Co., told Bloomberg last week. "This could start to freeze the Vision fund out of future deals. This also potentially puts Vision Fund II at risk."
Son's decision to stay away from the FII, reported by The Wall Street Journal, followed a steady stream of high-profile defections including that of Siemens boss Joe Kaeser, World Bank president Jim Yong Kim, Uber CEO Dara Khosrowshahi, and bank chiefs from HSBC, JPMorgan Chase and others as anger mounted over the disappearance of Khashoggi after he entered the Saudi consulate in Istanbul on 2 October.
While he avoided the conference, being hosted by bin Salman, Son nevertheless met the crown prince on Monday, Bloomberg reports, adding that Son skipped a dinner Monday evening at the home of PIF's managing director.
Surreally, the FII conference got underway yesterday as global news networks broadcast a speech by Turkish President Recep Tayyip Erdogan insisting he had strong evidence Khashoggi's murder was "savage" and premeditated. Erdogan called for the suspects to be tried in Istanbul, and demanded that the Saudi government come clean on where Khashoggi's body was and who ordered his assassination.
As the day unfolded, Sky News reported that Khashoggi's dismembered body parts had been discovered in the garden of the Saudi consul general, citing Turkish sources.
The official Saudi account of what happened has changed dramatically, from an initial insistence that Khashoggi was still alive, to the claim that Khashoggi had died in a brawl in the consulate and, most recently, to the claim that Khashoggi was killed in a "rogue operation".
Top image: SoftBank's Masayoshi Son, left, signed an MOU with Crown Prince Mohammed bin Salman, right, to develop a $200bn solar scheme in Saudi Arabia in March this year (Saudi Embassy USA/Twitter)
More on the Khashoggi fallout: