US architect Skidmore, Owings & Merrill (SOM) has unveiled its design for a terminal at Kempegowda International Airport in Bangalore, the capital of India's southern Karnataka state. The first phase of construction will create a 255,000 sq m building serving 25 million passengers a year.
SOM describes the building as a "terminal within a garden", complete with trees, local and exotic plants, ponds, waterfalls and a shopping area within a three-storey "forest belt".
Walls will be made of brick, floors will be covered in natural composites, and the ceiling will be finished in engineered bamboo.
SOM says the vegetation will counteract carbon emissions, and the building enclosure will use glazing and shading to reduce artificial lighting. Outside the terminal, an expansive garden will surround a lagoon, which SOM says will help maintain the terminal's plant life. Elevated walkways will connect with Terminal 1 and the airport hotel.
Hari Marar, the airport's managing director, said: "Terminal 2 is founded on four pillars: technological leadership, the idea of a terminal in a garden, environmental and ecological stewardship and a celebration of Karnataka's rich heritage and culture."
Peter Lefkovits, SOM director, said: "Terminal 2 will stand apart from every other airport in the world. The orchestration of every component – both natural and man-made – creates a passenger experience that we hope will set a precedent for the future of airport design."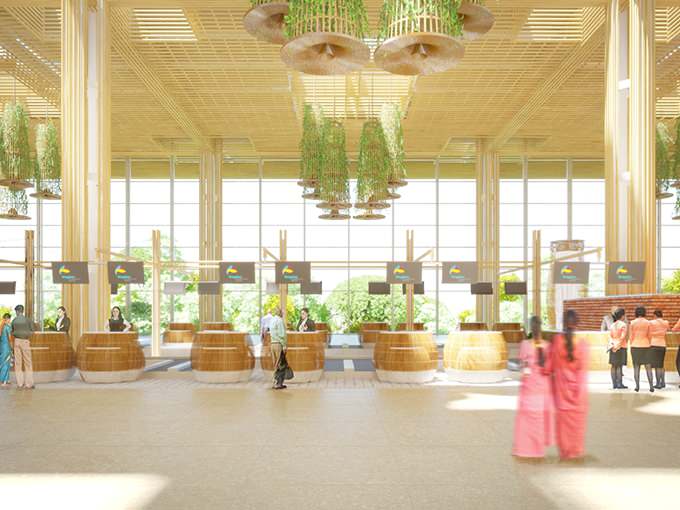 Work on the project is due to be completed by March 2021.
Images courtesy of SOM