The National Museum of the US Army (NMUSA), designed by Chicago architect Skidmore, Owings & Merrill (SOM), has opened last week on Veterans' Day, 11 November, 32km south west of Washington, DC
Described as the first museum to first to tell the entire history of US army, the project aims to serve as an educational centre and as the army's symbolic front door.
The 84-acre development is located close to the Fort Belvoir Military Installation in Virginia, and will be split between a number of pavilions that contain exhibits and special events. There is also a memorial garden, parade field and grandstand, and an "army trail".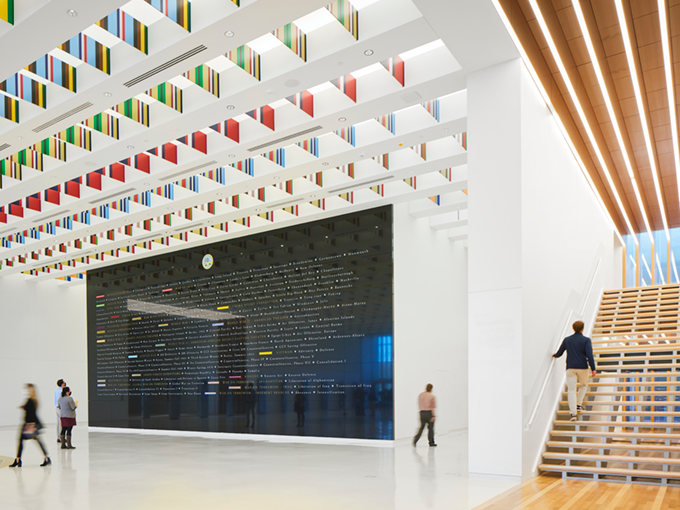 Located on a high plateau, the museum rises 30m at its peak, with a laser-cut stainless steel panel grid façade showing a "sense of rigour and discipline", according to SOM.
Inside the complex, steel pylons with stories from individual soldiers lead to a promenade and the exhibition hall's vestibule.
A grand lobby contains a black granite wall listing every campaign in the army's history. The third floor contains a veteran's hall, connecting to a medal of honour garden, and another granite wall, engraved with the names of every recipient.
The lobby is surrounded by shops, a cafe, the first of three landscaped terraces and a theatre. Additional exhibition spaces are located on the second floor.
The project expects to achieve LEED Silver certification, and contains many green features, such as a planted roof, occupancy sensors and efficient LED lighting.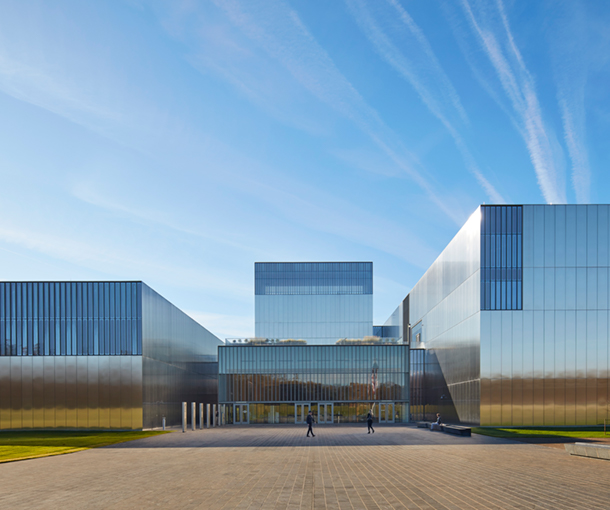 Roger Schultz, retired US Army lieutenant general and Army Historical Foundation president, said: "Our partners at SOM did a magnificent job helping us envision a museum that would reflect the army's storied history, its values and the service of the 30 million men and women who have worn its uniform.
"SOM's ability to produce such an impressive design while ensuring the museum is also green and sustainable is a credit to their team and representative of our shared values."
Images courtesy of SOM