17 July 2013
Six South African cities which hosted the 2010 World Cup are demanding compensation of nearly $400m from construction companies for bid-rigging and price collusion for stadiums, roads and other infrastructure.
Last month, South Africa's antitrust body, the Competition Commission, imposed $140m worth of settlement fines on 15 construction companies involved in bid-rigging and overcharging on contracts.
Now the South African Local Government Association (Salga) believes municipalities had been overcharged by $380m.
"They want their money back," said Salga chief of operations Lance Joel. "That's a lot of money."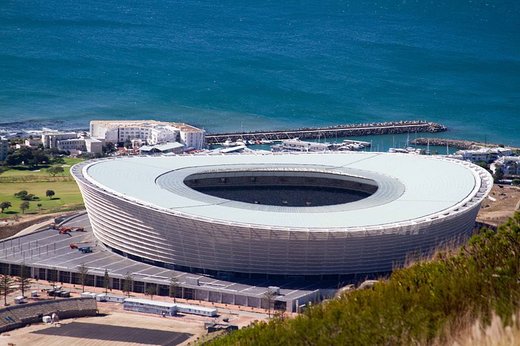 Cape Town stadium was among those built for the 2010 World Cup. (Credit: No lands too foreign/Wikimedia)
Murray & Roberts, one of the country's biggest construction companies, was fined $30m by the commission, a sum described by CEO Henry Laas as "severe".
"One almost gets the impression that the construction industry has been lined up in front of a firing squad with government firing shots, clients firing shots, everybody firing shots," Mr Laas said, although he admitted that the company deserved the fine.
Salga wants to reach an out-of-court settlement with the companies but if that fails, the association will sue for civil damage claims.
"We plan to claim as much as we can from the construction companies," Joel told Bloomberg last week. "It is fair."