A group of anonymous Spanish artists known as Luzinterruptus has created an illuminated river of 10,000 books in a street in downtown Toronto.
Fifty volunteers worked for 12 days to fill the street for the exhibition, which took place at the start of October. The books used were donated by the Salvation Army and most were taken home by passers-by after the installation had finished, thereby dismantling most of it.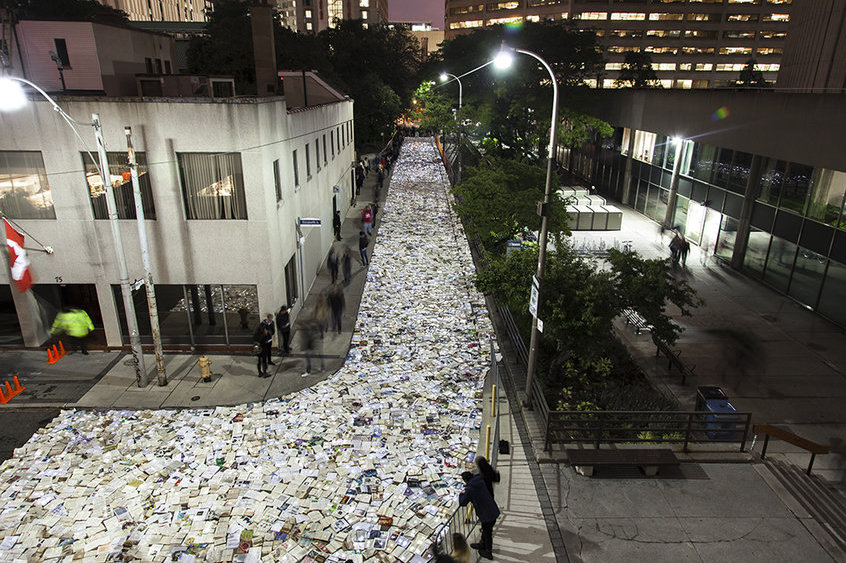 Luzinterruptus said on its website: "We want literature to take over the streets and conquer public spaces, freely offering passers-by a traffic-free place which, for some hours, will succumb to the humble power of the written word.
"A city area which is typically reserved for speed, pollution and noise will become, for one night, a place for quietness, calm and co-existence illuminated by the vague, soft light coming from the lighted pages."

The group has previously carried out the same installation, which it calls "Literature vs Traffic" in Madrid and New York (illegally) and in Melbourne (legally).
The installation in Toronto was part of Nuit Blanche, an annual celebration of contemporary art put on by the city's administration.
This piece was part of the theme of "And the Transformation Begins", a series of artworks inspired by the theme of transformation in the works of Austrian poet Rainer Maria Rilke.
The festival featured more than 90 art projects by some 300 artists.
Images by Lola Martínez via Luzinterruptus