A spikey bright white church by architect Moneo Brock is nearing completion against a backdrop of mountains in Monterrey, Mexico.
The 1,600-sq-m church of El Sen can accommodate a congregation of 350 and features a 43m high bell tower and a communal outdoor space, where larger services can be held.
The altar, pews and stained glass were designed by Moneo Brock while other features such as a sculpture of Jesus were commissioned from artists.
Another courtyard will feature classrooms, community rooms and a funeral chapel.
"While the character of the church is undoubtedly contemporary, its volumetric concept was derived from traditional church plans," the architects told Dezeen.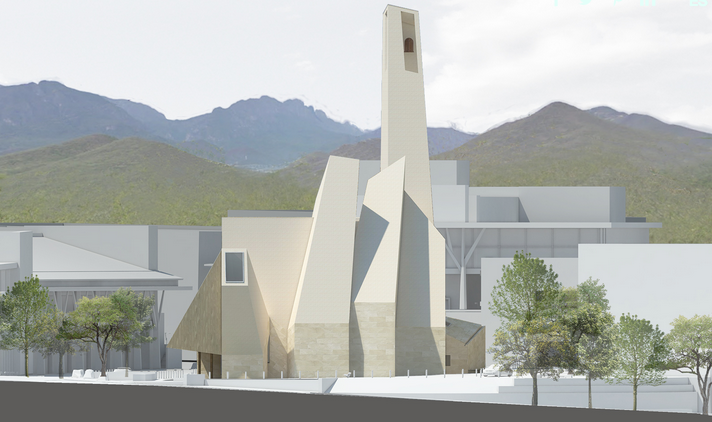 "The design presents recognisable architectural features taken from early Christian temple prototypes such as the bell tower, the stained-glass windows, the frontal altar, the baptistery and the choir."
"The project aims to go beyond the accommodation of religious rituals and liturgical events as currently practiced in Monterrey, finding references to a great heritage of ecclesiastical architecture while simultaneously remaining unquestioningly contemporary."
It is not clear when the church will be completed, but landscaping is due to be finished in 2017.
Images via Moneo Brock