Frustrated developers say a shortage of skilled construction professionals and labour is pushing up costs and delaying projects by up to a year.
With over 1.2 billion people living there, complaints of a labour shortage in India may come as a surprise.
But the property industry there says that a lack of construction professionals and unskilled workers is causing them grief.
The industry needs up to 5 million professionals every year – planners, project managers, architects, surveyors and engineers – but has only around one million, said Sachin Sandhir, South Asia managing director at the Royal Institution of Chartered Surveyors.
Surprisingly, the situation is worse in the case of unskilled workers, Mr Sandhir told India's business news portal LiveMint.com.
Of around 50 million people employed in real estate, construction and infrastructure, only 2 million are professionally qualified, said Mr Sandhir, adding that the industry will need 44 million professionals by 2020.
The Confederation of Real Estate Developers' Associations of India lobby group pegs the overall labour shortage at about 40%.
It's serious, Mr Sandhir said, because the shortage of skilled construction professionals and manual labour is causing project costs to rise, and is also delaying the launch of new projects by up to a year.
A number of factors seem to be causing the labour pinch.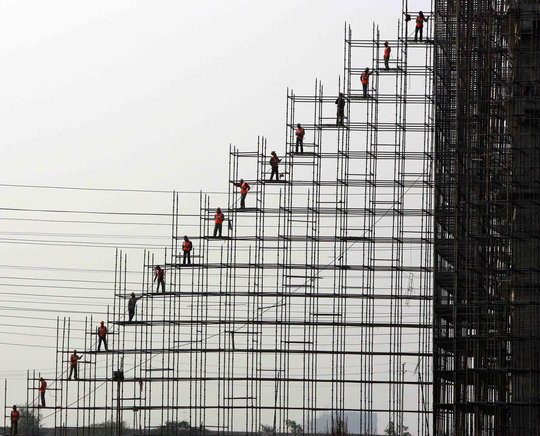 Construction project in Greater Noida, India. (Kamal Kishore, Finalist, Art of Building 2012
Traditionally, construction has depended on migrant workers who move from the villages to cities in search of work, but development in rural areas has provided jobs closer to home.
And developers and real estate consultants say the success of welfare schemes such as the rural jobs-guarantee programme, which ensures 100 days of work per year to a poor household, has also prevented as many workers striking out for the cities as before.
Brotin Banerjee, managing director and chief executive at Tata Housing Development Company, told LiveMint.com that improved literacy is emboldening workers to seek easier, better-paid jobs.
 
Bad timing
The labour crunch comes at a time when the real estate sector is struggling with a liquidity shortage, according to LiveMint.com.
Banks are more cautious about lending for real estate because this past year saw India's slowest growth in a decade, at 5%.
And rising inflation has pushed up workers' wage expectations.
To top it off, the property industry believes Indian construction workers are less productive than their counterparts in other parts of the world, and should be better trained in modern construction techniques and equipment.
"In Germany, 1 million sq ft of building can be constructed using just 100 workers, but in India it takes 1,000 workers to build a similar building in the same period," said Santosh Sundararajan, chief executive at Vascon Engineers, an engineering, procurement and construction (EPC) services and real estate development company.
Meanwhile, demand for urban housing and office space is set to surge.
According to a 2010 report by the McKinsey Global Institute (MGI), India's urban population is set to increase from 340 million in 2008 to 590 million by 2030.
MGI projects that to meet urban demand, the economy will have to build between 700 million sq m (7,543 million sq ft) and 900 million square meters (9,687 million sq ft) of residential and commercial space a year.
Read the LiveMint report here.