A design by US firm Steven Holl Architects has been approved for a Cultural and Health Centre in Shanghai.
The project is being developed by a state-owned food processing company called the China National Cereals, Oils and Foodstuffs Corporation (COFCO), which commissioned it last summer.
It consists of two buildings that will serve as a "social condenser, bringing the community of the surrounding new housing blocks together in a public space and park along Punan canal", according to the architect.
The project is inspired by the concept of "clouds and time" a reference to philosopher Karl Popper's 1965 lecture on an evolutionary model of free will called "Of Clouds and Clocks".
The firms say the landscape is organised in "clock-like circles forming a central public space" whereas the buildings are described as "cloud-like".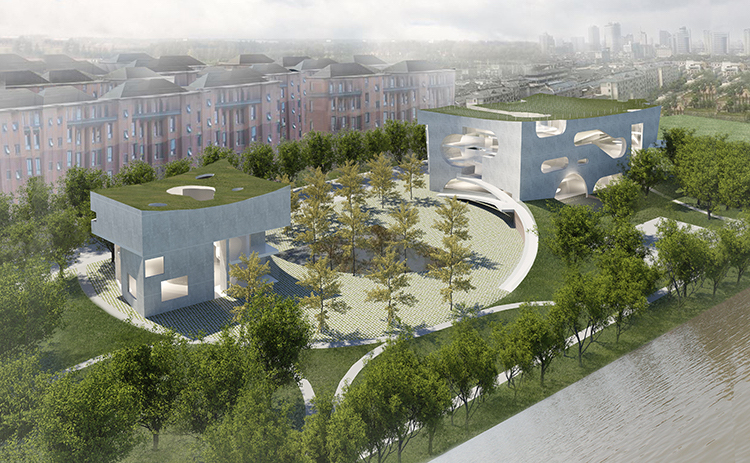 The centre, which will be built out of white concrete, "hovers over a transparent glass base that exposes the café, games and recreation rooms". It also has an exhibition area, library, gym and crèche.
The Health Centre is also made of white concrete and will be used for health consultation and education; it houses a pharmacy, consultation and examination rooms, a nursery area and lounges.
Both buildings have green sedum roofs that merge with the landscape when seen from above and from the surrounding apartment buildings. The quarter-circle pool and fountain reflects the building's central space and provides rainwater recycling.
The buildings, which are geothermally cooled, are designed for LEED platinum certification.
The development is due to be completed in 2018.
Images via Steven Holl Architects