Austrian contractor Strabag has been awarded four contracts worth €360m in January this year.
The largest is a €198m deal to design and build two sections of the S7 expressway north of Warsaw, which is being upgraded to four lanes.
Two Strabag subsidiaries will also build a 22km section of highway between Strzegowo and Pieńki, with a second 14km section linking Pieńki to Płońsk.
The contract also includes the construction of several junctions and rest areas as well as the illumination and drainage systems.
Construction work on the project is due to be completed in 34 months.
Strabag has also won a €77m job for a rail tunnel in Toronto. Here, the company's will build an 180m long tunnel under Highway 401 (pictured above) to accommodate two tracks operated by Metrolinx, Ontario's public transport agency.
This design-build-finance contract will be executed under a 50/50 joint venture with EllisDon Capital, a local PPP specialist.
Work on the project is scheduled to last until mid-2021 and is part of a larger infrastructure programme aimed at improving rail services around Toronto.
The contract for 18 buildings in Schönefeld, close to Brandenburg Airport (Sonnenhöfe GmbH & Co KG)
Meanwhile, Strabag subsidiary Züblin has been awarded two contracts in Germany.
An €85m job involves the construction of 18 four to five-storey residential and offices towers close to Berlin's still-unfinished Brandenburg airport in Schönefeld on a 51,100 sq m site (pictured).
Züblin will create 16 buildings with 559 one to four-room rental apartments, with the buildings grouped around three green courtyards complete with quiet areas and playgrounds.
The firm will also build two office complexes with 10,700 sq m of usable space.
Work also includes construction of two underground car parks.
Construction is due to be completed in August 2021.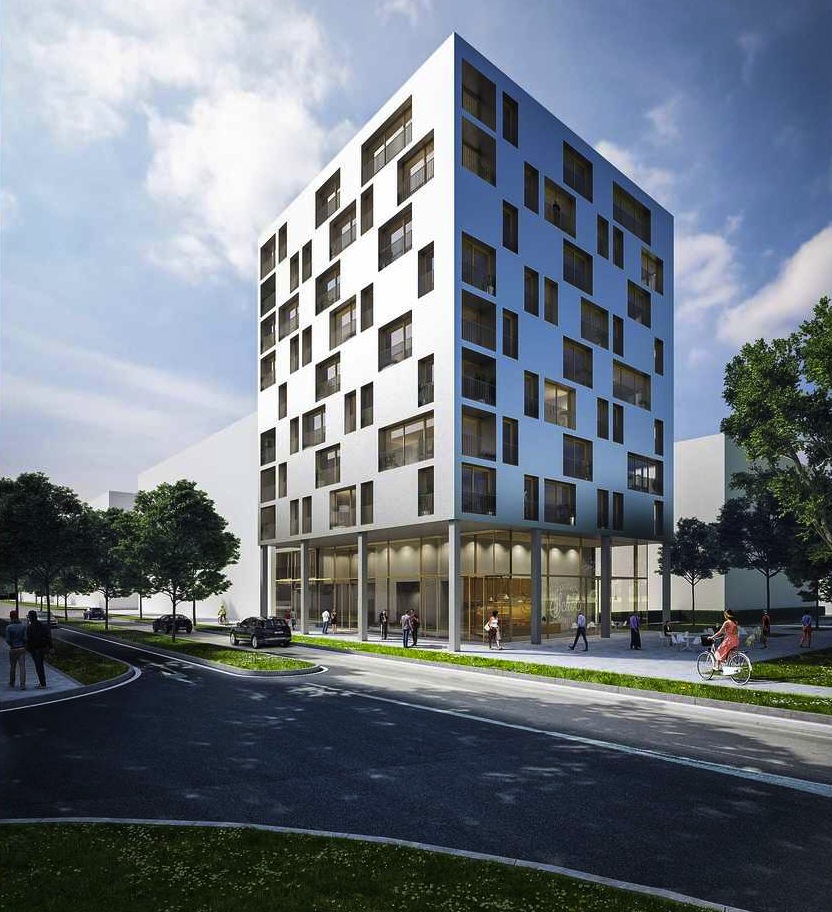 Züblin's 34m Skaio timber tower (Design Kaden+Lager, render by Third)
Züblin will also build Germany's first timber high-rise tower (pictured).
Timber will make up the majority of the building, including the walls and ceilings, with reinforced concrete needed for the base floor and stairwell. The façade will be clad with aluminium panels.
The 10-storey structure in Heilbronn, southern Germany, was designed by Berlin architect Kaden + Lager and is being built in coordination with local developer Stadtsiedlung Heilbronn.
The Skaio high-rise will have 60 residential units and 3,300 sq m of living space. A bakery will be located on the ground floor.
Recently, Strabag lodged a complaint to the Croatian government for awarding an "unusually cheap" contract for the 2.4km-long Peljesac bridge to a Chinese consortium.
Top image: Strabag's tunnel is being built under Highway 401 near Toronto (Strabag)