28 August 2013
More than 50% of South African construction employers are reported to be affected by a nationwide strike over pay that shows no sign of resolution.
Union organisers said around 90,000 construction workers have so far downed tools after wage talks with the South African Federation of Civil Engineering Contractors (SAFCEC) broke down this week.
Miners, automotive and airport workers are also striking and the nationwide industrial action could see more than 300,000 people refusing to work.
SAFCEC said construction workers' unions are demanding a 40% pay increase on the total cost of employment for entry rate Task Grade 1, while employers are offering 7.5%.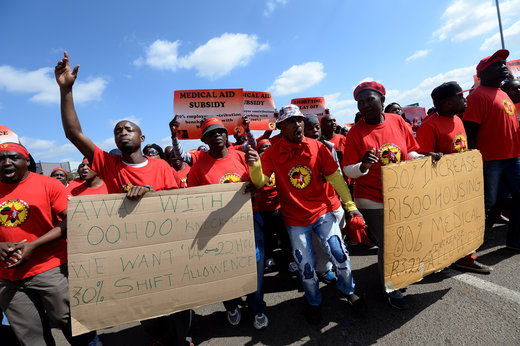 Workers on strike outside Ford's plant in Pretoria on 20 August. (ALEXANDER JOE/AFP/Getty Images)
In a statement SAFCEC said: "In terms of their respective positions, the parties are far apart and SAFCEC believe that the union demands are unreasonable and unaffordable."
SAFCEC said more than half of construction employers were now affected by the strike.
"It is regrettable that we've reached this position given the current state of labour uncertainty and the impact it will have on the industry and the economy", says Norman Milne, President of SAFCEC.
Strikes are common in South Africa at this time of year, when sector-wide pay deals are negotiated, but last year 34 striking platinum miners were shot dead by police after their protests turned violent.