15 January 2014
If you fly to Aden Adde International Airport in Somalia, you will arrive at a two-storey concrete block with a capacity to handle 15 aircraft, even if it doesn't always have enough functioning equipment to unload them.
Up until recently, this was probably sufficient to cope with the volume of traffic into the capital of Mogadishu, but not any longer.
Indeed, the revenue generated by the airport increased 50%Â in the fourth quarter of last year.
And if you make your journey this summer, if all goes to plan, you will arrive at a modern steel-and-glass terminal with enough taxiways and stands to accommodate 60 airliners, according to Turkish media.
After a radical improvement in its security situation in 2012, Somalia's fortunes have been transformed – although it has to be said that they could hardly have got any worse.
After the government of President Siad Barre was overthrown in 1991, Somalia was without a functioning state for 21 years. During that time it was subject to just about every possible misfortune: economic collapse, famine, foreign invasion, Islamic insurgency and civil war.
Mogadishu, 1993, site of a work-for-food program set up by the Bangladesh Army (PV2 ANDREW W. MCGALLIARD/Wikimedia Commons)
But it was apparent that the country had turned a corner in October of last year, when the government launched its $2.5bn Somalia Development and Reconstruction Facility, which co-ordinate the spending of international donors.
The recovery has led to a surge in building projects as foreign investors scramble to gain early-bird advantages. Regional investors from Uganda, Kenya and Ethiopia have been joined by others from India, Egypt and China.
Meanwhile, more than 20 countries have reopened embassies there, and housing projects have begun to provide homes for the 60,000 members of the Somalian diaspora who have returned home.
The country that has taken the lead in reconstructing Somalia has been Turkey.
This engagement began with a strategic decision by the Turkish government in 2011 to grant university scholarships worth $70m to 1,200 of the brightest Somali students.
The aim was to create a corps of influential Turkish-speaking business people and administrators with whom the Turkish government could do business in the future.
Turkey was also responsible for alerting the world to the change in Somalia's fortunes.
This was largely accomplished by its branch of the Red Crescent, which went to Mogadishu in the beginning of 2012 and set about decontaminating water supplies, clearing rubbish mountains, building schools and clinics, and establishing settlements for Somalia's displaced people.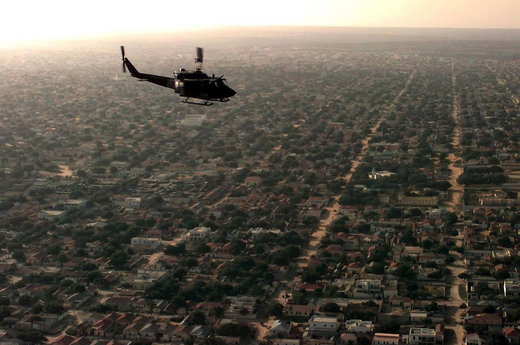 A US Marine helicopter flies over Mogadishu during Operation Restore Hope, 1992, after the overthrow of President Siad Barre (TSGT PERRY HEIMER/Wikimedia Commons)
It was this effort that demonstrated to the international community that the security situation had changed in Mogadishu.
As Mary Harper, the BBC's Africa editor, put it: "The fact that Turkey put people on the ground and they weren't all shot dead or kidnapped within five seconds was like a slap in the face to the rest of the world."
As a result, it is no surprise that it is the Turkish airport operator Favori that is funding the reconstruction of Aden Adde.
In the coming year Turkish firms will reap some of the benefits of its humanitarian work, in the form of contracts to build mega shopping malls, manufacturing outlets, petrol stations and housing.
Despite the improvements in the personal safety of foreign visitors to Somalia, however, the security situation remains uncertain.
Fighting between African Union troops and the Islamic al-Shabaab militia continues in the south of the country, and there are reports of violence in the capital.
Four people were killed in a gun battle between Islamic militants and government forces in Mogadishu on 12 January, the same day that two Kenyan engineers were kidnapped by unidentified gunmen in another part of the city.
Serious though these incidents are, it is significant that they are considered newsworthy after so many years when gun battles and abductions were part of everyday life in "the most dangerous country in the world".
If the reconstruction effort is successful, those days may be over for good.