16 April 2014
A unique survey of African attitudes towards Chinese companies suggests deep public resentment but that attitudes in Kenya are much more favourable than in South Africa or Nigeria.
The survey, the first to gauge public opinion across sub-Saharan Africa, was carried out by the Ethics Institute of South Africa. It found that, on balance, Africans were unhappy about the level of social responsibility of Chinese firms, the quality of their products, and their general reputation.
"The overall result was quite negative," Deon Rossouw, a philosophy professor at the Rand Afrikaans University and chief executive of the Ethics institute, told GCR.
"But if you look at the literature and especially the media perspective, that is quite negative, so there were no big surprises.
"What was a surprise was the great discrepancy between South Africa and Nigeria on the one hand and Kenya on the other. The Kenyans are substantially more positive about Chinese firms."
The findings come amid the announcements of several major Chinese-backed projects in Kenya, including a $750m new city near Nairobi, and a new standard gauge railway between Nairobi and Mombasa. They come also as Kenya moves to introduce legislation requiring foreign construction firms to form joint ventures and to subcontract work to local firms.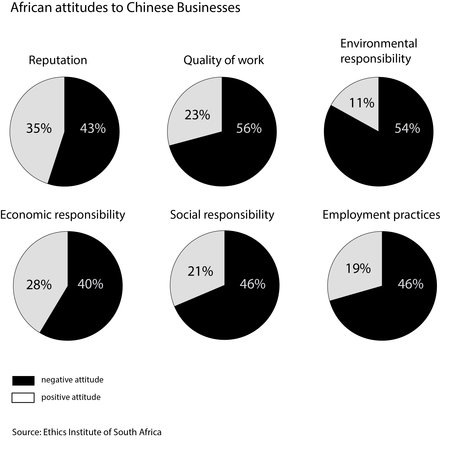 (GCR)
In response to the statement "China has a good reputation in my country", 56% of Kenyans agreed compared with 33% of Nigerians and 22% of South Africans. A large majority of Kenyans thought that Chinese firms were having a positive impact on the development of the country: 77%, compared with 46% of Nigerians and 29% of South Africans.
However, very few respondents agreed with the statement that their relationship with the Chinese was one of equals: Kenyans were, once again, the most optimistic, with 25% saying the relationship was equal. The figure for Nigeria was 18% and for South Africa, 14%.
The most striking discrepancy is in attitudes to Chinese-built infrastructure projects. Eighty-nine per cent of Kenyans said they were happy with what had been built compared with 13% of South Africans and 29% of Nigerians.
Rossouw said it was a mystery why Kenya should be so much more positive towards the Chinese than the rest of Africa.
"The research was quantitative, so we don't know why the respondents held those opinions," he said. "We have wondered whether it's the case that South Africa and Nigeria have had a longer exposure to and therefore more negative experiences with Chinese firms. But according to Chinese diplomats I have spoken to, they had their first engagements in Kenya in the 1960s, but of course it's about the scale and we know that South Africa and Nigeria have had extensive investment."
He added that Chinese TV is much more widely accessible in Kenya, and this naturally presents a more favourable image of China's activities in Africa. China's international broadcaster, CCTV, launched a high-tech television operation in Kenya, and this has also boosted Chinese tourism to the country.
A free copy of the report is available here.