A synagogue designed by Swiss and German studio Manuel Herz Architects has been completed in Babyn Yar, a ravine in the Ukrainian capital of Kiev and site of one of the worst massacres carried out by the Nazis.
The building takes the form of a "pop-up book", referencing the collective reading of the Bible and the Siddur, the Jewish book of prayers.
Manuel Herz Architects says a book is a perfect metaphor for a synagogue, where "new worlds and meanings unfold in three dimensions from a flat object".
Created from hundred-year-old oak, the synagogue resembles a closed volume 8m wide and 11m tall. When it is pulled open by the congregation, a steel framework unfolds, as in a pop-up book, to create the bimah reading platform in the centre, alongside benches and a balcony.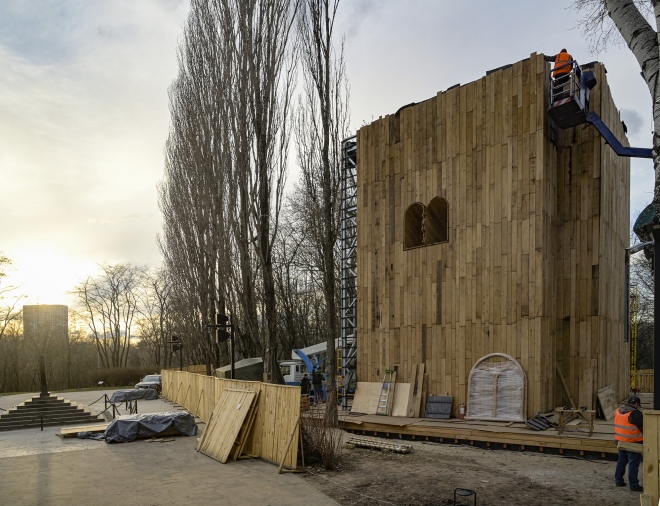 The walls of the synagogue display prayers of the Jewish liturgy, such as the Shma' Israel, the Kaddish and the blessing for turning a nightmare into a good dream.
The ceiling displays symbols and iconography found in Ukraine's synagogues from the 17th and 18th century, and when brought together recreate the constellation that was visible over Kyiv on the night of 28 September 1941, when the massacre began.The Synagogue is located behind a Menorah monument which was built during the 1990s.
Images courtesy of Manuel Herz Architects