Taiwan is hoping to lure international tourists to its shores with an unusual attraction.
Rather than theme parks or ancient temple complexes, the government is offering the Suhua Highway, an extremely dangerous road with a history of death. 
The Directorate General of Highways (DGH) said last Thursday that it has been working with the country's tourism authorities to turn the road into a "world-class attraction".
Suhua Highway, or Route 9 (pictured), is a picturesque, narrow and dangerous road that runs for 118km along the cliffs of Taiwan's sparsely populated eastern coast, from Taipei in the north to the southern county of Pingtung. 
Until 1990, northern sections of the road were only 3.5m wide, which meant only one vehicle could use it at a time. When two met, it was a coin toss to see who had to reverse for long distances just centimetres away from an unprotected cliff edge. 
The road acquired the reputation as the most perilous in the world – frequent mudslides, collapses into the sea and falling rocks added to the excitement of the journey.
Eventually, cars were required to travel in convoys, and to pass each other only at six designated passing spots.  Now, all of this history is being replaced by a modern two-lane highway with tunnels and bridges, to be built at a cost of $1.6bn, with completion scheduled for 2017.
The decision to upgrade came after Taiwan was struck by Typhoon Megi in 2010, which triggered landslides along the road and led to the deaths of 26 people.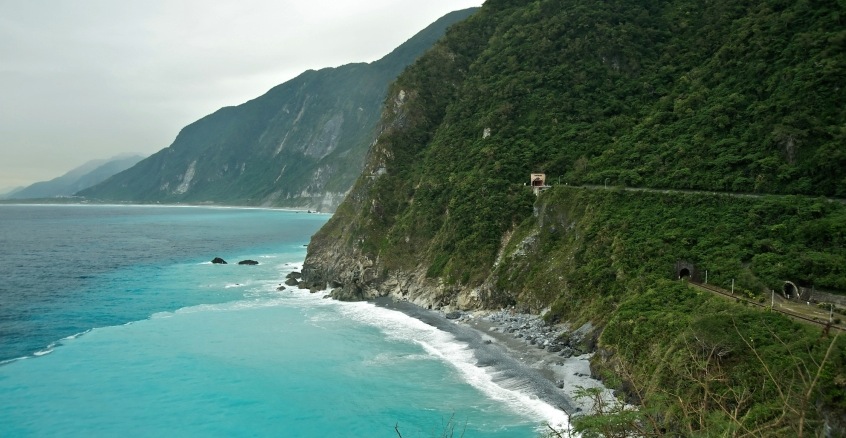 The Chingshui cliffs above the Philippine Sea on the eastern coast of Taiwan (Fred Hsu/Wikimedia Commons)
This project passed a milestone on Wednesday with the completion of construction of the first of eight tunnels, 212m Dongyue Tunnel. 
The attraction for tourists will be sections of the old road that are to be preserved for those who want to see how people used to get about the island. 
Chao Hsin-hua, the head of the DGH, said the old parts of the road would be restricted to cyclists and those with small cars travelling at less than 30km/h. 
"The old roads will target those who prefer a sustainable lifestyle," he said. The decision to attract tourists comes during a surge in the country's tourist industry. 
Much of east Asia is experiencing a rise in visitor numbers, but Taiwan is growing fastest: up 27% in the first half of the year, just ahead of second place Japan, according to the UN World Tourism Authority.
The figures were boosted by visitors from the People's Republic of China. Tourism from the mainland rose 70% over the week-long National Day break compared with a year earlier.