Abu Dhabi Airports Company (ADAC) has appointed a joint venture comprising Taylor Woodrow International and Fibrex Construction Group to build two new passenger buildings and a link bridge at Abu Dhabi International Airport.
The $22.8m contract at Terminal 3 is part of an ongoing programme to accommodate growing traffic – it grew 18.9% in 2012, according to ADAC – until the new Midfield Terminal Building (pictured) is ready in 2017.
The year-long project includes a 6,015 sq m building for people waiting to transfer by bus to remote aircraft.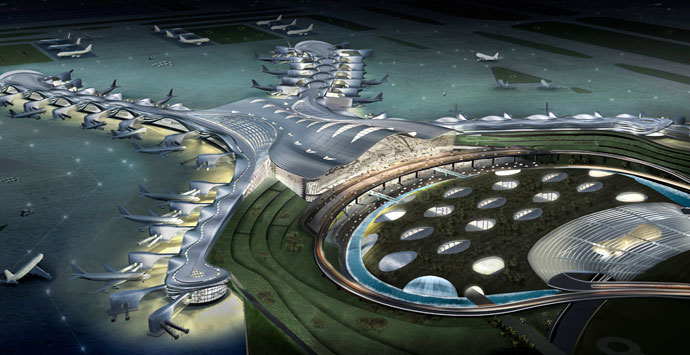 New buildings will handle growing traffic until the new terminal, above, is ready in 2017
A new steel-framed bridge will connect this building with Terminal 3's departures level.
A second building will house the transfer passenger screening facilities. This steel-framed structure will add 2,700 sq m to the terminal. Completion is planned for February 2014.
Taylor Woodrow International, part of Vinci, focuses on building and civil engineering in the Gulf region.
Fibrex Construction Group is headquartered in Abu Dhabi.