With just 10 days until the opening of Brazil's World Cup finals, the stadium that will host the opening game has failed to pass its safety inspection.
The stadium is marvellous, but it's not even finished! And that's completely unacceptable. It should have been done months ago– Fernando Martin, construction worker
The São Paulo fire department inspected the city's Itaquerao stadium and refused to approve a large area of temporary seating behind one of the goals.
Work on the seating has been a problem throughout the construction of the stadium, and in March of this year, a worker died during its installation. A crane collapse killed two workers last year.
A practice match took place at the ground yesterday but attendance was 37,000, compared with a ground capacity of 65,000, owing to the failure to certify the temporary seating. If the seating is approved before the tournament starts, then the first game played to a full house will be Brazil v Croatia on 12 June.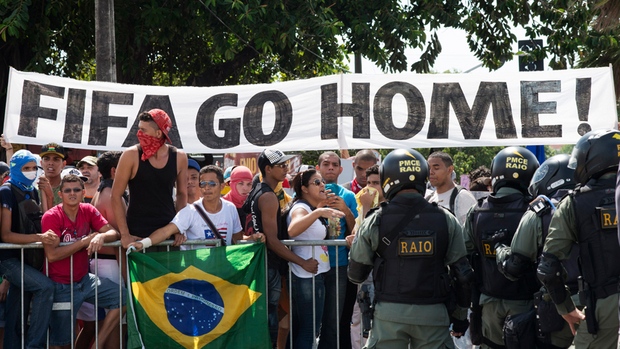 World Cup protests
Yesterday, spectators faced broken elevators, exterior lighting problems, patchy cell-phone connectivity and a drenching storm that forced some to move to higher seats because part of the glass-paneled roof was still unfinished, Business Insider reports.
Odebrecht, the contractor building the stadium, has already confirmed that a part of the roof will be completed after the World Cup is over. 
This World Cup is already controversial with FIFA head Sepp Blatter citing delays, the loss of life during construction and workers allegedly living in "slave conditions".
Brazillian World Cup officials have repeatedly said they will be ready in time.