11 February 2014
Researchers claim new building blocks made from ground-up tyres could be more earthquake resilient and cut heating bills by 50%, reports Rod Sweet.
Scrap tyres could gain a new purpose as ingredients for construction materials, thanks to research at Missouri University of Science and Technology.
Discarded tyres are a big problem. Landfills teem with them and they catch fire easily.
But they are also amazing feats of engineering in themselves, and their longevity and resilience have led many to wonder what else they could be used for.
Dr. Mohamed A. ElGawady, a researcher at Missouri S&T, is one such person, and he is currently testing new masonry blocks made with ground tyres.
"Rubber has a lot of benefits in addition to its sustainability," says ElGawady, associate professor of civil, architectural and environmental engineering.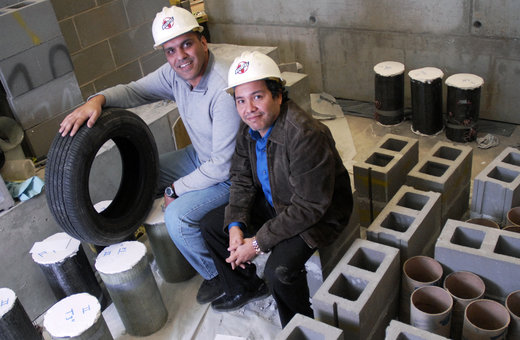 Dr. Mohamed A. ElGawady, associate professor of civil, architectural and environmental engineering (right) with graduate student Ahmed Gheni
"It's very durable and provides good insulation. Among their many potential benefits, these new blocks could cut heating bills by 50%."
ElGawady has been working with Missouri firm Midwest Block and Brick to create the blocks, which are made from scrap tyres ground to fine particles and sand.
The 'rubberized' blocks were constructed with a variety of ratios of sand to rubber before coming up with the right balance.
"The rubber makes the blocks a bit weaker, so after testing various percentages, we now only replace about 20 percent of the sand with rubber, so the blocks retain their strength," ElGawady says.
He and his students use a compression machine to test and compare the strength of prisms built with the rubberized blocks to conventional concrete masonry blocks.
Both rubberized and conventional blocks are being tested in an environmental chamber where they undergo cycles of extreme temperatures and humidity levels, simulating different weather conditions. 
The rubberized blocks are also tested under cyclic compression loads simulating earthquake loads. "
Construction with these new blocks could improve a building's resiliency during an earthquake by acting as shock absorbers," says ElGawady.