Privately funded rail firm Texas Central is planning to build a high-speed rail line between Dallas and Houston in Texas.
The Texas Central Railway was listed in the Trump administration's priority projects, released in January. This listed a $12bn a 386km line that would reduce travel time between the state's first and third largest cities from four and a half hours at present to 90 minutes.
Texas Central says there are nearly 50,000 Texan "super-commuters" who travel back and forth between Houston and Dallas/Fort Worth more than once a week. They will be to take a service that departs every 30 minutes during peak periods and every hour during off-peak periods.
A Japanese Shinkansen bullet train, a high-speed train with tilting capability, will be used on the line. The one chosen is Japan Railways Group's Series N700 which currently runs between Tokyo and Osaka and has a top speed of 330km/h.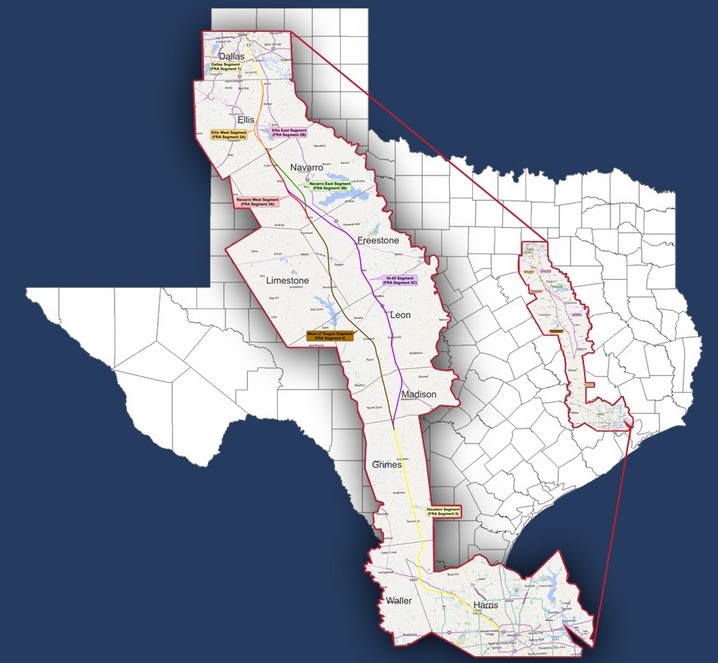 The Tokyo and Osaka route uses a 16-car train; Texas Central will use an eight-car train with seating capacity for 400 passengers.
The 10 to 20 acre Dallas high-speed train station will be built on undeveloped land in the Cedars district in the south of the city with local firm Matthews Southwest acting as developer. It is unclear exactly where the Brazos Valley and Houston stations will be located.
Texas Central say that the project will create more than 10,000 jobs during each year of construction and more than 1,000 permanent jobs once operational.
Texas Central say is has analysed "potential routes that follow alongside existing rights of way as much as possible" and "closely examined a number of such rights of way, including interstates, freight rail corridors and power and utility corridors, all with the goal of minimising impacts on private property".
The firms say it plans to begin construction in 2018.
Images courtesy of Texas Central