China and Thailand today agreed a price of 179 billion baht ($5.2bn) for the 250km first phase of the country's high-speed railway.
The agreement follows many years of haggling over the cost of the line, which will bring Chinese tourists and manufactured goods to Thailand, and Thai agricultural exports to China.
In March this year, the Thai government announced that the deal was off, after the two sides failed to strike a bargain over the total cost. Other areas of disagreement included investment-sharing, the interest rates to be paid on Chinese loans and development rights to land along the total 845km line.
At that time the prime minister of Thailand's military junta, General Prayut Chan-o-cha, said that Thailand would move ahead unilaterally on a 260km high-speed link between Bangkok and the city of Nokorn Ratchisima to its north-east.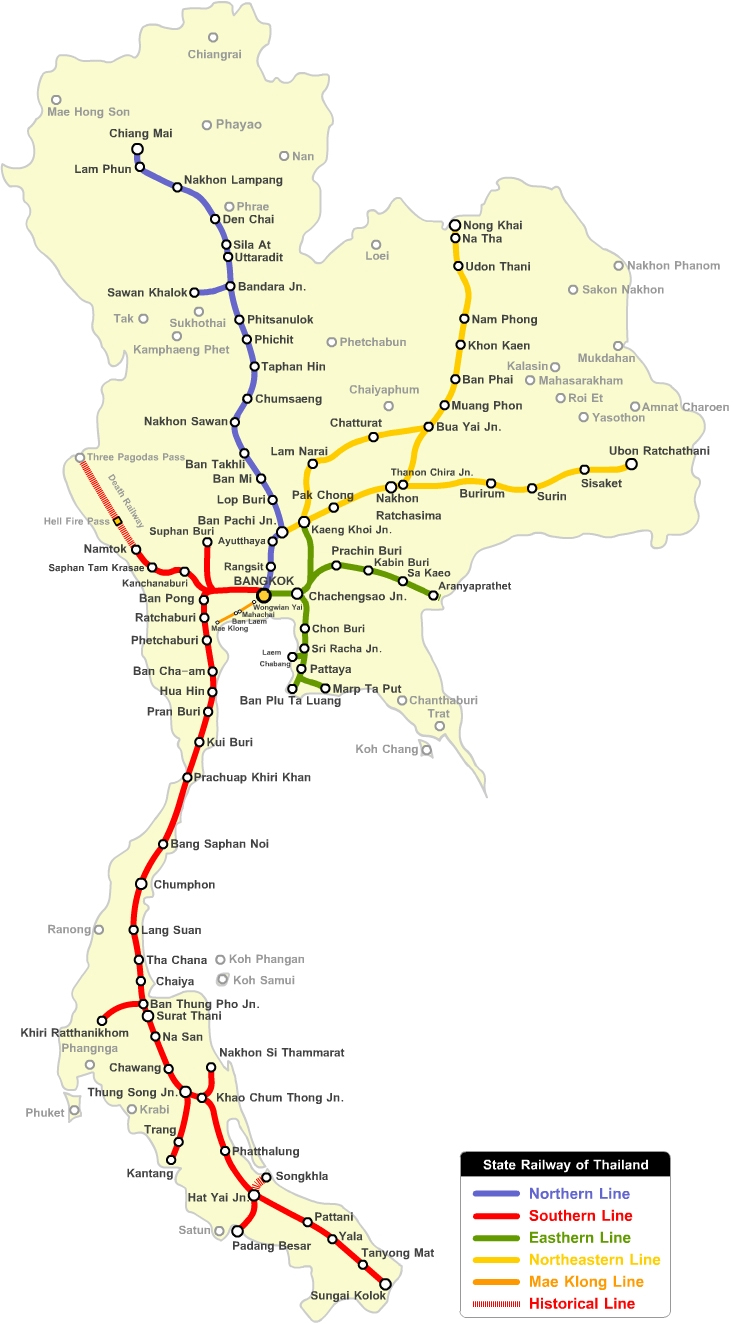 Thailand's existing rail network (JohoMaps)
Despite this brinksmanship, negotiations continued. In May, the Chinese estimated that the first phase would cost 190 billion baht ($5.4bn), whereas Thais put it at 170 billion ($4.9bn). In June, China raised its projection to 200 billion baht ($5.8bn) and Thailand put it as 180 billion, which is close to where the bargain was struck.
The agreement was reached after a three-day meeting between the two sides. After it was over, Arkhom Termpittayapaisith, the Thai transport minister, told reporters in Bangkok: "This project will cost 179 billion baht [$5.2bn]. This is what we agreed on."
Arkhom said Thailand would pay for the line's construction costs and China would funds its technical systems.
The first phase will connect Bangkok and Nokorn Ratchisima, with work beginning in December. When complete it will be able to connect to the high-speed standard gauge link between Kuala Lumpur and Singapore, thereby completing the backbone of southeast Asia's 21st-century transport infrastructure.
The agreement is being seen as part of a reorientation of Thailand's foreign relations under its military government, which have moved away from the US, its traditional ally, and towards China.
Image: Hua Lamphong, Bangkok's main railway station (GCR)
Further reading: