After eight years of planning and preparation, and two false starts, China Harbour Engineering has begun work on a $490m project to build a deepwater port at Timor-Leste, a recently independent country in the Indonesian archipelago.
An official ceremony launching the project was carried out on Monday, 15 July, attended by José Agostinho da Silva, the Timorese transport minister, and Chinese ambassador Xiao Jianguo. Blasting has begun at a quarry on the island to collect construction materials.
Xiao said in his speech at the event that infrastructure was a "key area" for China-Timor-Leste cooperation, and that there were some 20 Chinese enterprises operating in areas related to infrastructure on the island.
He added that in the past 17 years, since the establishment of diplomatic relations with Timor-Leste, China had built the Presidential Palace, the Ministry of Foreign Affairs and the Ministry of National Defence.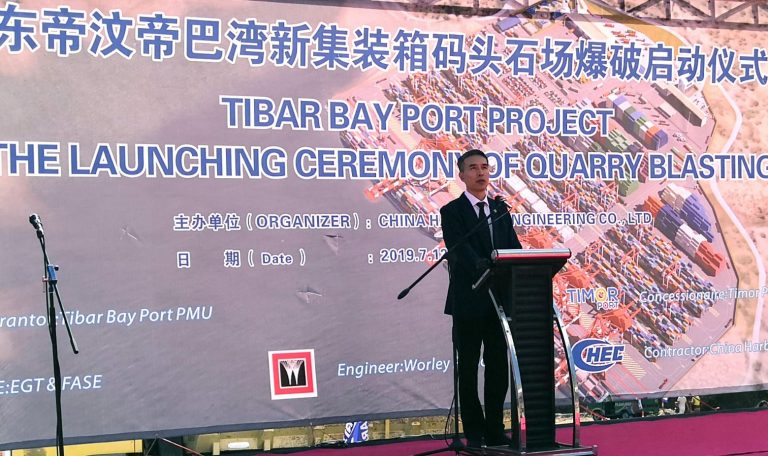 Xiao Jianguo speaking at the launch ceremony (tl.chineseembassy.org)
The port work is being carried out by a consortium led by French logistics company Bolloré on a public-private partnership basis. The project had previously declared to be live in June 2017 and August 2018, however issues with funding and subcontracting delayed progress both times.
The port is being built in Tibar Bay, about 10km west of the capital of Dili. It will have a 630m dock, a 27ha container terminal, 11.6ha of offices and workshops and state-of-the-art equipment, including two ship-to-shore and five rubber-tyre gantry cranes. It will be able to accommodate ships with a draft of 15m, deep enough for all but the largest container ships.
The initial construction phase of the project is valued at $280m, with the Timorese government financing $130m and the private partner the remaining $150m. In the second phase, when the port is operating, Bolloré plans to invest about $210m in expansions.
China Harbour Engineering is a subsidiary of state-owned contractor China Communications Construction.
The state of Timor-Leste, which occupies the eastern half of the island of Timor, was a former Portuguese colony that was invaded by Indonesia in 1975 and occupied until 1999, during which time more than 100,000 Timorese suffered conflict-related deaths. The island gained independence in 2002, but more than half the population still live in extreme poverty.
Top image: Bolloré's rendering of the port
Further reading: