Turner & Townsend has been chosen to provide cost management and advisory services for two schools in New South Wales (NSW), Australia.
The Parramatta Public School and the Arthur Phillip High School will become the first "high-tech, high-rise, future-focused schools in the region" with an investment of over US$70m.
Key features of the design include:Â Â Â Â  Â 
Highly adaptable, technology-rich teaching and learning spaces
Formal and informal gathering areas for teacher and student interaction  
Diverse indoor and outdoor spaces to encourage sport, activity and passive play
Community service and recreation spaces  
Welcoming meeting areas for parents and teachers  
Heritage buildings retained and integrated into the design
Adrian Piccoli, Australian minister for education, said "An international competition for the tender ensured the schools will have the best possible educational facilities. Â 
"By building a high-rise school we've been able to significantly increase the size of the playground as well as cater for more students at Arthur Phillip High School.
"These future-focused schools will allow students keep pace with the new technologies they'll need to master as they enter the workforce."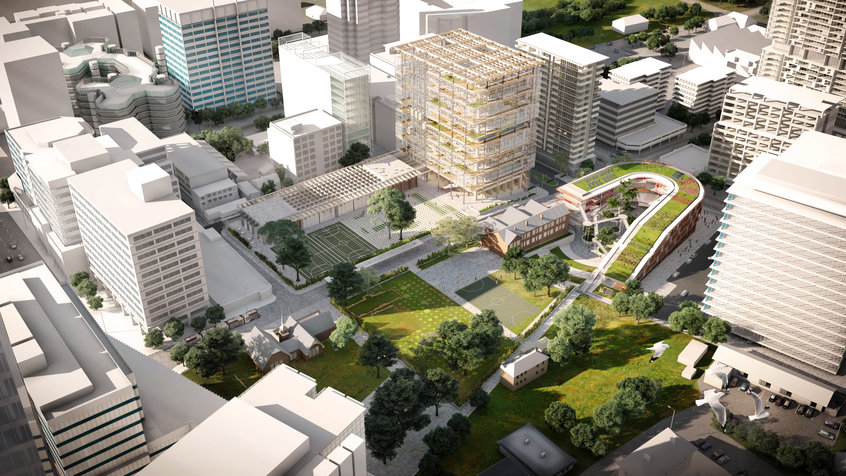 Anooj Oodit, managing director of Turner & Townsend Australia and New Zealand, said:Â  "Vertical high-rise schools are an increasing trend in modern cities as communities look to accommodate growing populations and new ways of learning.
"The re-development of Arthur Phillip High School and Parramatta Public School will set the benchmark for future high rise schools in Australia.
"Through our extensive experience of delivering complex education projects, we are delighted to have been appointed on the project to support the department in achieving its objectives."
The company was recently appointed to provide project management services on the first vertical high school in the South Australia region, which will cater for 1,500 students.
Images courtesy of Grimshaw