UK architect Tonkin Liu has revealed its 2016 competition-winning proposal for a new Trade Centre in Zhengzhou, in east-central China.
Dubbed "The Cradle Towers of Zhengzhou", the project comprises five residential, office and hotel towers that swoop out of a podium housing retail and leisure space.
Hollowed out to form a ring, a podium forms a "threshold between the city and a soft, sheltered landscape within", the architect said.
The family of five towers each at a different height "swoop out of the urban block to from a mountainscape".
The project contains vertical courtyards which "bring daylight into the deep plan at the base of the towers and establish vertical gardens up their inside faces".
A "fluid landscape spills out" of the Cradle Towers and under the lifted podium ring, connecting the vast inner courtyard to the wider city beyond.
The peak of each tower contains a roof-top glass house.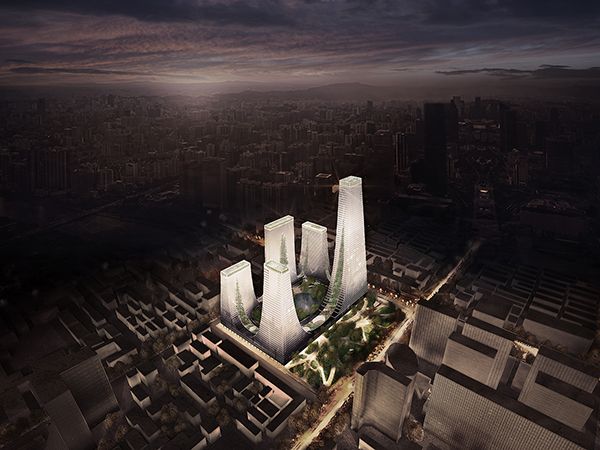 The firm commented: "Zhengzhou is the cradle of the nation's civilization. It sits at the heart of one of the earliest settlement areas of ancient China.
"Emblematic of the parks of the nearby Songshan mountainscape, and the Round Sky and Square Earth proverb, the Cradle Towers celebrate the city's origins as it looks to build its future."
Images courtesy of Tonkin Liu