A freedom of information request made by smart homes provider Project Etopia to the UK Ministry of Justice has found that councils rarely use powers to seize vacant properties and use them for housing.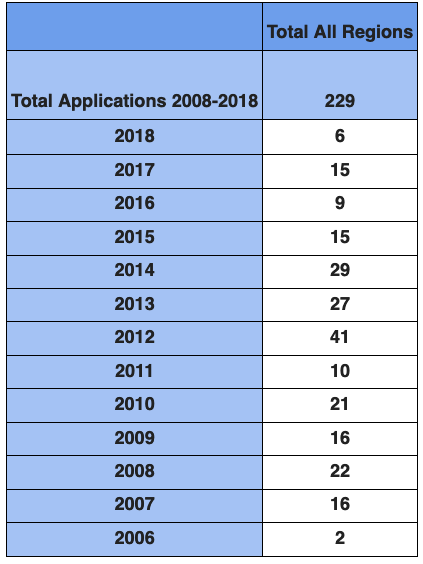 A table displaying Empty Dwelling Management Orders since their introduction
Councils were give power to make Empty Dwelling Management Orders (EDMOs) in 2006, at which time is was predicted that they would be used about 1,000 times a year. However, in 2012 councils made 41 orders, and last year that fell to six.
Recent figures from the Department for Housing, Communities and Local Government show there are 205,293 long-term vacant properties in England.
The House of Lords Select Committee on Economic Affairs found in 2016 that 300,000 homes were needed each year to combat the housing crisis.
Caroline Flint, the former minister for housing, said in the House of Commons in 2008: "I want to ensure that the orders that we provided can be used. If there is a reason that they cannot be used, I want to hear about it. However, simply not using them is no excuse."
Joseph Daniels, Project Etopia's chief executive, commented: "More than a decade has passed since EDMOs were introduced and, though the legislation was well-meaning, it is clear that the policy is not working. If EDMOs are too difficult to obtain, then these powers should be replaced by a new scheme that councils are able to use more effectively.   
"Councils want to return empty homes to use and we should be supporting them in doing that. Local authorities should be given new powers that recognise the challenges involved, from respecting the difficult circumstances that can sometimes result in these homes sitting vacant to the rights of those who own these properties." Â 
Image: Westminster (Michal Bednarek/Dreamstime)