Amtrak has hired UK designers Arup and Grimshaw to help in a $50m remodelling of Washington DC's Union Station, the second busiest train station in the US and one of its "national treasures".
The transformation will overhaul the concourse of the station (pictured), which closed temporarily in 1981 due to the risk of structural collapse.
Commuters have long complained of it being cramped, badly lit, crowded and confusing.
Consulting engineer Arup and architects Grimshaw will assist Washington architect KGP Design Studio, whose plan for the iconic station was released yesterday.
According to The Washington Post, passengers "have difficulty knowing which direction to head to catch their train or make connections to commuter lines, Metro, buses, taxis or the new DC Streetcar".
The design team's plan is to push back the station's north wall on the concourse level to add 20,000 square feet of space for new toilets, boarding gates, seating, a police station and a lounge. The extra touch is added by a glass wall, which will let commuters see the train tracks.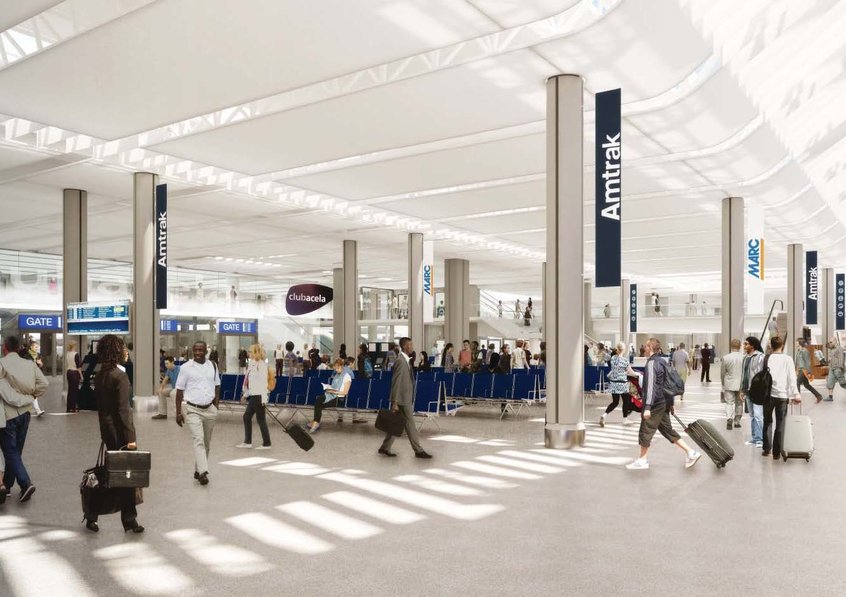 Artist's render of the new concourse (KGP Design Studio)
Arup comments on its website that the aim of the redesign is to bring in natural light and create a "vastly reconfigured, modernised, and unified concourse that will improve the passenger experience by providing better accessibility, circulation, wayfinding, and multimodal connectivity".
The station opened in 1907 and grew into one of the busiest in the country. It was closed in 1981 after the General Accounting Office concluded it was nearing structural collapse. This led to a special act of Congress, and a $160m restoration to enable it to deal with its 37 million passengers a year.
Grimshaw is a London-based architect that has been responsible for a number of major station refurbishments in the UK.
KGP Design Studio is a Washington architect, and Arup is a UK consulting engineer and will be taking care of structural, M&E and plumbing.
Work will commence in 2017.
Top image: The interior as it is now (Marku/Wikimedia Commons)