UK estate agent Foxtons has come under fire for installing metal spikes outside its office in Holborn, central London, to deter the use of its facade by rough sleepers.
If you're worried about the spikes maybe instead you could worry about the housing shortage– Anonymous student nurse
The company has agreed to remove the spikes after a petition on change.org was signed by more than 36,000 people in a single day.
Foxtons is not the first British company to face a backlash over "defensive architecture", intended to prevent the use of building exteriors by the homeless. Department store Selfridges placed spikes outside one of its Manchester shops last year. These were also removed after an outcry.
Last year, 132,000 people signed a petition when an apartment block on London's Southwark Bridge Road installed metal studs in its doorway to repel unwanted visitors; these were also removed.
Boris Johnson, the Major of London, tweeted about the incident last year, saying : "Spikes outside Southwark housing development to deter rough sleeping are ugly, self defeating and stupid. Developer should remove them ASAP."
Hostile design is not just an issue in the UK. Sprinklers are used in places such as New York and Guangzhou, China, to encourage homeless people to move elsewhere.
Benches in the London Borough of Camden, an example of hostile design? (Wikimedia Commons)
This move towards "disciplinary architecture" is being seen as part of a larger "out of sight, out of mind" problem at a time when homelessness in the UK is on the rise.
An anonymous student nurse, has been quoted in The Independent as saying: "If you're worried about the spikes maybe instead you could worry about the housing shortage, or the lack of good mental health and drug and alcohol services in your area.
"Worry about how your local area is dealing with antisocial behaviour. Worry about children's services, worry about decent homeless liaison teams in hospitals. Worry about the lack of shelters. Worry about the benefit cuts."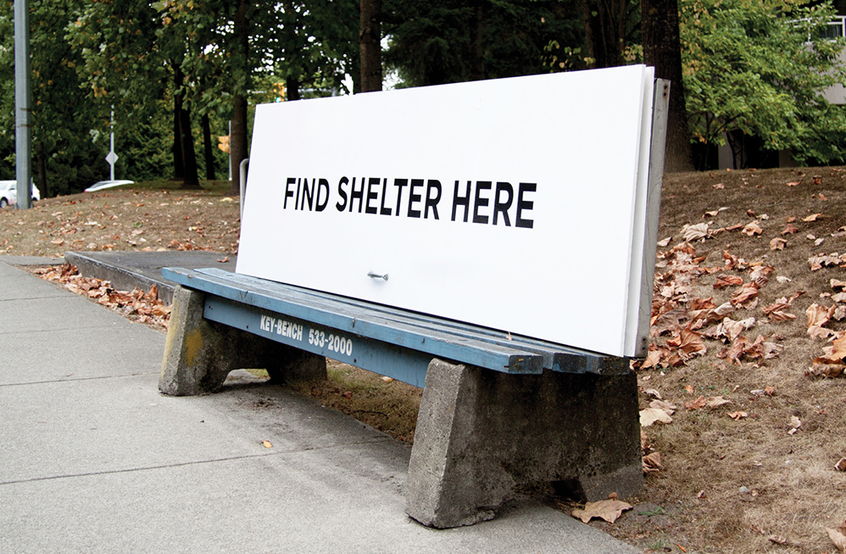 Park benches in Vancouver, Canada, that fold out to provide miniature shelters (http://www.fastcoexist.com)
Despite this, not all urban architecture is used to deter the homeless.
The city of Vancouver in western Canada has introduced park benches (pictured) that fold out to provide miniature shelters.
GCR recently spoke to a Californian artist who creates $30 homes to give to the homeless.
There is also a crowdfunding effort for a cardboard "instant room" that are aimed at people who want to furnish a living and sleeping area at minimal cost.
Top image: Spikes outside Foxtons office (@tillylonsdale/Twitter)