A group of British companies have submitted plans for a mass-produced mini nuclear reactor to Canada, where remote northern settlements could benefit from powerful off-grid supplies of heat and electricity.
Their idea is the "U-Battery", a compact, uranium-fuelled reactor capable of producing 4MW of electricity and projected eventually to cost as little as $49m.
The consortium, led by uranium fuel maker Urenco and including Laing O'Rourke, Amec Foster Wheeler and Cammell-Laird, has registered its design for a micro-modular reactor with the Canadian Nuclear Safety Commission (CNSC).
It means the U-Battery will get a "pre-licensing vendor review" to see if, in principle, the technology would fit within Canada's regulatory framework.
For the consortium it is a rehearsal for submissions to other countries' nuclear authorities.
"This is an important step forwards for U-Battery. It is a mark of the progress we have made in our design, and builds on the significant headway we have made last year in Canada and other international markets," said Steve Threlfall, U-Battery's general manager, reports World Nuclear News (WNN).
The consortium aims to have a demonstration unit complete by 2025. As with the larger small modular reactors (SMRs), the unit would be made on a factory assembly line and used to generate both heat and power, possibly in areas that are not connected to a utility grid.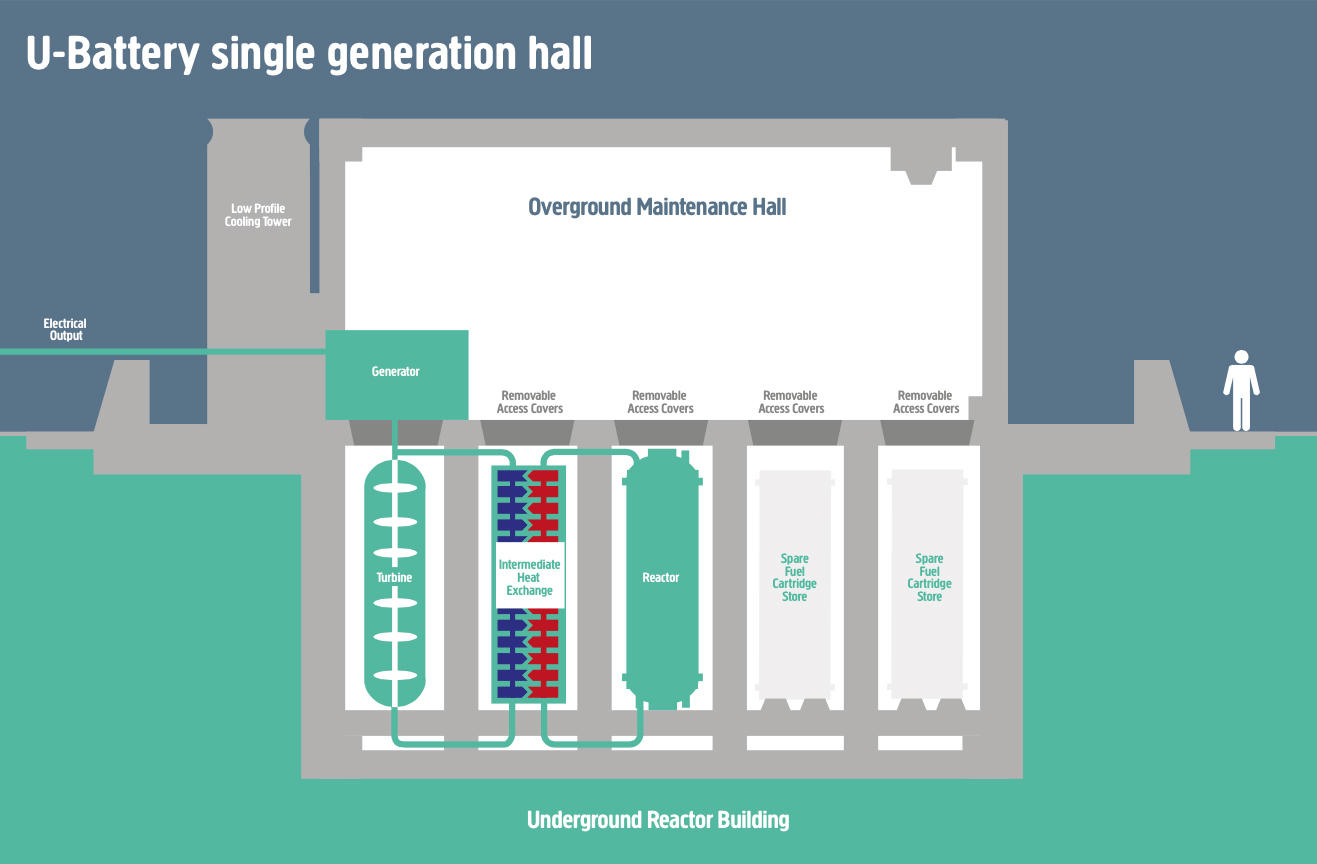 Urenco's section through a reactor hall. It would be about the size of a football pitch's penalty area
The design uses "Triso" fuel, made up of pellets of uranium oxide coated in three protective layers to make them safer and easier to manipulate. The reactors would be helium-cooled, and would produce 10MW of thermal energy and 4MW of electricity.
It is estimated that by the fourth iteration, it would have a catalogue price of between $49m and $86m.
The idea for a micro-reactor was proposed in 2008 by Urenco, and the design was developed by the University of Manchester and the Technology University of Delft.
Speaking at the UK Nuclear Industry Association's conference on SMRs in London on 27 February, Threlfall said the Canadian market for U-Battery could be "very, very large", with around 300 locations, each requiring between one and six units, WNN reports.
Most of the U-Battery's components could be supplied from the UK, Threlfall told the comference, although a production facility could be built in Poland, where the consortium signed letters of intent in May last year.
Top image: Just the spot for a self-contained nuclear heat and power plant? Canada's Diavik diamond mine in the Arctic Circle (GIA)
Further reading: