By harnessing the forces of nature, a simple egg-shaped device invented by a blacksmith and a builder has been found to remove pesky air trapped in UK central heating systems, boosting energy efficiency by as much as 30%.
Its unique shape harnesses the forces of nature to drive dissolved air out of water, with a growing number of field tests showing big increases in energy efficiency.
Resulting from a 16-year labour of love and a late, near-accidental design change, the so-called Oxypod (shown above in a publicity photograph) received a top prize last month in this year's International Innovation & Research Awards, organised by the Chartered Institute of building.
"People find it astonishing when they understand what the Oxypod is," co-inventor Bob Harris, 68, told GCR. "Well, I'm one of the inventors, and I find it astonishing. It's a very unusual place to be in. It's like, how did we do it?"
Harris became a co-patent holder after suggesting the necessary egg shape to Stan Whetstone, also 68, who had been working on the implosion device since 1999. 
Tiny bubbles
Air trapped in water is the bane of closed-loop central heating systems. It causes corrosion in the pipes, leading to the formation of magnetites, or "black sludge". It also slows the water down, makes it harder to heat and causes extra pressure and strain on the system.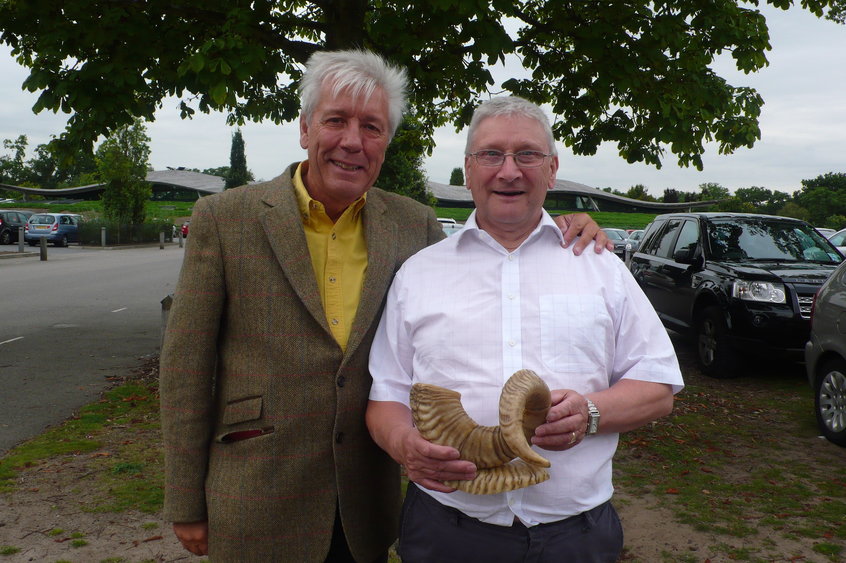 Oxypod co-inventors Bob Harris, left, and Stan Whetstone, plus a ram's horn Harris used to illustrate the geometry
Typically, around 2.5% of water in heating systems – 2.5 litres for every hundred – is air. Chemicals, filters, magnets and inhibitors are used for de-aeration, but dissolved air is stubborn. The nitrogen that comprises around 78% of air forms tiny bubbles that are too small to float, and oxygen atoms stick to them, guaranteeing only partial success for standard interventions.
The Oxypod works by harnessing a simple but powerful force of nature. Travelling through the device, water is forced into a vortexial spin. This causes a drop in pressure, which makes the nitrogen bubbles expand, rise, and burst. The gas then escapes through a valve at the top. 
This process of "implosion" makes the water denser and less viscous, meaning it heats up faster and flows more quickly through the system. Diverting water through the Oxypod brings the parts-per-million of air in water down from more than 4,000 to 10 in a matter of minutes.
The device Stan Whetstone had been working on since 1999 was a short, stubby cylinder. Whetstone, who had apprenticed as a blacksmith before taking sales jobs in the domestic heating industry, had sunk a fair amount of his own cash into developing it, but its performance was disappointing. When he heard about Whetstone's work, and saw a picture of the device, Harris knew it had to change.  
Eggy magic
"Something has to happen for the water to take on a vortexial form," said Harris, who apprenticed as a carpenter but had become a developer of ecological homes, and taught the subject at Kingston University in London.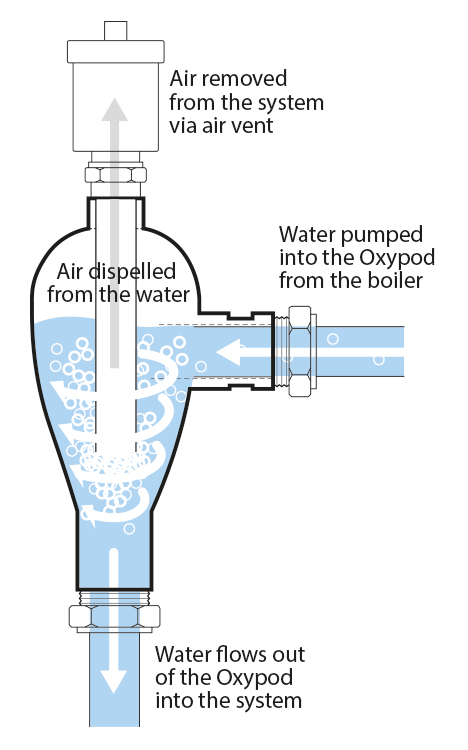 A diagram of the Oxypod
"I knew that from how water behaves in nature, the relationship between height and fall in creating a vortex. The original shape didn't make the water go into a spiral. Coming into an egg, the water can do nothing other than to go into a spiral."
The pair co-patented the design in 2011 and, thanks to a much needed injection of cash from a charitable trust in the city of Hull – the Goodwin Development Trust, which promotes community wellbeing and affordable housing – Whetstone and Harris were able to get prototypes made and tested in a number of municipal housing developments.
After a year of testing, local authorities began to report significant savings on energy use – as much as 30% in one trial in the London borough council of Ealing. 
Now, the Oxypod is working its eggy magic at a nursing home with 44 radiators, a hotel with 47 radiators, a school in Newcastle-upon-Tyne, and it is being installed at all stations of the North East Ambulance Service. 
The Goodwin trust is doing its bit, too. It will shortly complete a £2.8m project to bring 60 empty properties in Hull back onto the market as affordable homes, and they'll all have Oxypods. 
Could be big
From a business perspective, the Oxypod could be taxiing for take-off. The potential market is as many centrally-heated homes and buildings as exist in the UK. According to government statistics there were just over 23 million dwellings in England alone as of March 2013 – a tantalising prospect indeed. 
In the background are rising energy bills and ambitious government targets to cut emissions from the nation's building stock. But for now they are taking it one step at a time. Practical considerations remain to be worked out, such as, if demand ramps up, how to scale up production. 
"We will not take this outside the UK to be manufactured," said David Watt, project manager for the Goodwin trust, and the man who got the trust involved. "Our existing supplier has said that they could very easily scale up to around a thousand a month, so that's not a problem. 
"If it got to that point, sales would fund further research on scaling manufacturing up and bringing cost down, and that would be a very exciting challenge. A lovely strategic aim would be to get this halved in price over the next five years."