A house made of shipping containers, designed by UK architect Whitaker Studios for an American film producer, is on sale for $3.5m even though work on it is not due to start until next year.
The "Starburst House", commissioned for a 90-acre site near the Joshua Tree National Park in California, will be made from 21 shipping containers linked together to look like an exploding star.
The client is Chris Hanley, best known for producing the movie, American Psycho. He chose a design that had already been produced by Whitaker Studios for another client in a deal that did not proceed.
The property listing, with Santa Monica estate agent Engel & Völkers, suggests that the new owners can choose where the house will be built, noting that there are "multiple flat sites to choose from".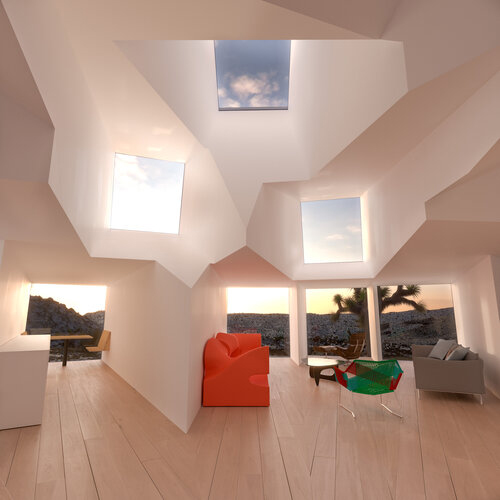 The stark interior of the Starburst (Whitaker Studios)
According to the listing, the home's "exoskeleton of cuboid forms emanate in all directions oriented to capture the sheer beauty of the vistas, sky and desert-scape".
It also offers "a stark interior comprising concrete flooring, white walls and minimal furnishings", and would be ideal for clients who enjoy "stargazing, horses and tranquility for their spiritual, meditation or yoga practices".
The house will have three ensuite bedrooms, a kitchen and a living room, each offering a view of the park, or the sky. There is also a garage topped by solar panels.
Top image: The Starburst rendered in its likely setting (Whitaker Studios)