10 December 2013
Utico Middle East plans boost its profile in Africa with project to build a $300m coal-fired power plant in Namibia.
The project includes the construction of a 150MW facility in the Okakkura Governorate, which will be expanded at a later date to 300MW.
The agreement between Namibia and Utico states that the Namibian government will provide the coal to Utico Middle East to generate power that will be sold to Namibia Power Corporation (NAM Power), the government-run power company.
Utico will also set up a transmission network to distribute the power across the country.
A memorandum of understanding was signed between managing director of Utico Middle East, Ruurd Abma, and CEO of AFRES Pty, Justus Ve, in the presence of Namibian MP, Vetaruhe Kandorozu, and a delegation from Namibia visiting the UAE.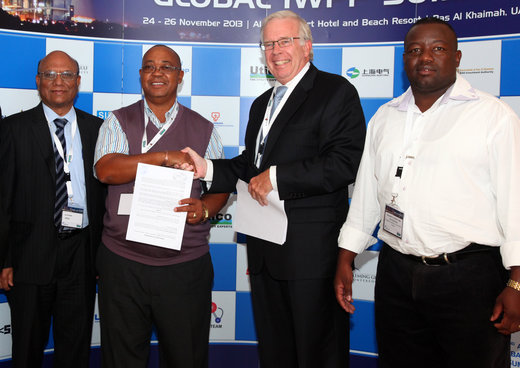 The agreement was signed in UAE between Ruurd Abma, managing director of Utico Middle East, and Justus Ve, CEO of AFRES Pty (Courtesy of Utico)
Executive vice chairman of Utico Middle East, Richard Menezes, said: "This landmark agreement further recognises the capability of the Middle East utilities sector to handle large-scale projects at very competitive costs.
"By bringing lower-priced power to Namibia's citizens, we will be contributing to the country's economic development while building our own profile in the African continent."
Currently, Namibia relies heavily on its neighbours for its power requirements, importing more than 40%. The construction of the plant will help the country reduce its power bills and subsidy.
Source: Zaywa News Agency