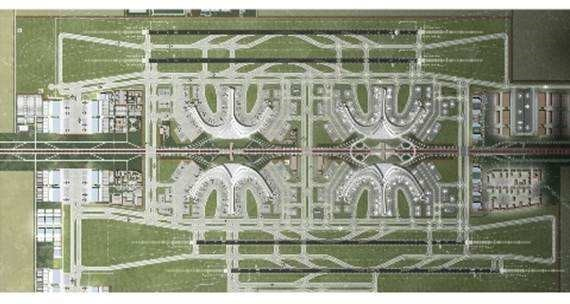 The Airports Corporation of Vietnam (ACV) has launched a fresh effort to find a contractor to build a 373,000-sq-m passenger terminal for the Long Thanh Airport project, news site VNExpress reports.
The corporation issued a tender for the $1.5bn construction scheme in September, however only one consortium, made up of Vietnamese companies, put in a bid, and it failed to meet ACV's requirements.
The project involves the design and construction of the terminal and the installation of its equipment. The new tender will be open until 28 March, and it is hoped that a winner will be named in May.
ACV will hold a pre-bid conference next week to survey the opinions of interested bidders. Do Tat Binh, ACV's deputy general director, said bidders must have "the capacity, experience and financial ability necessary for such a large and important project".
He added that, owing to the tender's strict conditions, only foreign contractors were eligible for the project. It is thought that the project's tight schedule dissuaded foreign companies from getting involved with the previous bid, however Binh said it was possible that "higher authorities" might consider extending the deadline.
The National Assembly and the government presently require the project's first phase scheduled for completion by the end of 2025, giving a build time of only 33 months.
The terminal is the largest aviation project in Vietnam's history. It took ACV two years to finalise the architecture plan, and one year to appraise and approve the project.
Long Thanh is to be located on a site in Dong Nai Province, about 40km east of Ho Chi Minh City. ACV has raised some $6.1bn to carry out the scheme, although the expected construction cost for the first phase is $4.1bn.
The total project has been costed at $16bn and will be divided into three phases. The first will include the runway, and a passenger terminal able to process 25 million passengers a year.
In phase two, a second runway will be added, along with another terminal to serve 50 million passengers a year. Phase three will complete and expand the facility so the airport can serve 100 million passengers a year.
Once operational, the airport will replace Tan Son Nhat International Airport as the largest and busiest in Vietnam.
As well as the airport itself, there will be a 38km light rail connection with Thu Thiem, just east of Ho Chi Minh City, and a rail connection with a future North-South high-speed line.
Work on the runway began in December, almost two years after the project's groundbreaking ceremony. It follows calls from the country's prime minister to expedite the work.