US secretary of state, Mike Pompeo, has launched a verbal assault on China Communications Construction Company (CCCC) and several of its subsidiaries for their work in creating artificial islands in disputed areas of the South China Sea, as well as their role in the Belt and Road Initiative (BRI).
In a press statement released Wednesday, 26 August Pompeo accused CCCC of causing "untold environmental damage" by creating the artificial islands, and said the Chinese government was using CCCC and other state-owned enterprises as "weapons to impose an expansionist agenda" through the BRI.
And a senior State Department official commented during a press briefing afterward that the US government aimed to "encourage all sorts of parties and institutions and governments around the world to assess risk and reconsider business deals with the sort of predatory Chinese state-owned enterprises that we've identified here, to include CCCC and its subsidiaries that have been so central to the militarisation and coercion in the South China Sea".
The official went on: "CCCC, which led on the dredging, is also one of the leading contractors used by Beijing in its global 'One Belt One Road' strategy. The company and its subsidiaries have engaged in corruption, predatory financing, environmental destruction and other abuses in countries all around the world. It is frankly a long and diverse and colourful and very unfortunate record in a long list of countries."
As a result, the Department of State is to impose visa restrictions on individuals responsible for the reclamation work. In addition, the Department of Commerce has added 24 state-owned enterprises to its Entity List, including several subsidiaries of CCCC. This means that they, like tech giant Huawei, will have to obtain a licence to receive US-made products.
The statement is the latest development in the US government's rhetorical attacks against the Belt and Road. Â 
In May, a White House policy paper described the initiative as characterised by "poor quality, corruption, environmental degradation, a lack of public oversight or community involvement, opaque loans, and contracts generating or exacerbating governance and fiscal problems in host nations".
The paper expressed the suspicion that Beijing planned to use Belt and Road loans to extract political concessions and obtain military access.
CCCC: the BRI's biggest builder
The sanctions are essentially symbolic, because the groups added to the Department of Commerce's Entities List imported only $5m of US goods over the past five years.
Nor is it clear how the US can punish CCCC or impede the progress of the BRI.
One issue is the sheer scale of CCCC's operations. The company has a market capitalisation of $43.5bn, and is the fourth largest contractor in the world by revenue. In 2019, it declared an operating profit of $4.9bn on revenue of $80.1bn, up 13% on the previous year. 
The company gains more of its revenue from foreign markets than any other Chinese construction group, and it is the largest supplier of transport infrastructure domestically in China.
Projects include immense schemes such as the Beijing-Tianjin-Hebei development plan, work on the Yangtze River Economic Belt and the Guangdong-Hong Kong-Macau Greater Bay area.
It has 112,000 employees and more than 60 subsidiaries, including major players such as China Harbour Engineering, China Road and Bridge, the CCCC Investment Co and, in Australia, John Holland Group.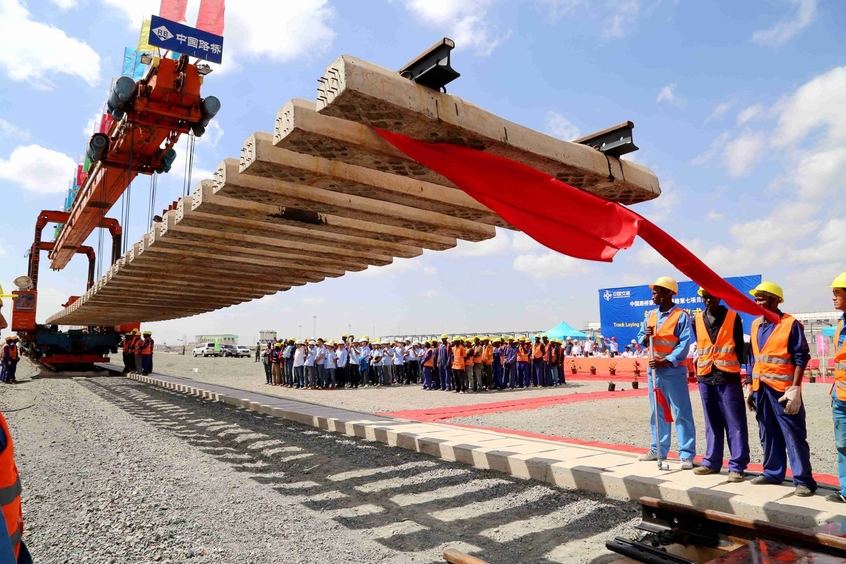 Chinese contractors took in almost $120bn in foreign revenue in 2017, a quarter of all international construction revenue. Here, work progresses on CCCC's Kenya railway (CCCC via Facebook)
Thanks to China's willingness to finance infrastructure abroad, CCCC has chalked up a portfolio of 700 projects in some 100 countries with a total value of more than $100bn, including landmark schemes such as Kenya's Mombasa-to-Nairobi rail link.
Although 63.8% of CCCC's shares are held by the Assets Supervision and Administration Commission of the State Council, other major shareholders include affiliates of US finance groups such as Merrill Lynch, BlackRock and JPMorgan Chase.
Future battlegrounds
The US may increase its use of diplomatic pressure to stymie CCCC's plans to expand. A recent example of this was the Trudeau government's rejection of CCCC's bid to buy Canadian contractor Aecon in 2018. This was reportedly made on the urging of the Trump administration, which may have viewed the sale as a threat to the Nafta trade deal.
Future battlegrounds are likely to be more problematic for Washington, namely Southeast Asia, the Middle East and Latin America.
Latin America, especially: CCCC's $1.4bn deal to build the fourth bridge over the Panama Canal in 2017 signalled the beginning of a drive to increase its presence in the Americas, which is particularly sensitive for Washington.
In the past, CCCC has been criticised for corrupt practices. The World Bank debarred it from bidding for its projects between 2009 and 2017 following its tender for a Philippines' road scheme, and it has been associated with mistreatment of railway workers in Kenya, corruption in Bangladesh and environmental damage in Sri Lanka.
For its part, CCCC maintains that it has established "an eminent reputation in Asia, Africa, the Middle East and South America", and says this is based on its advanced technology, which is supported by seven laboratories and two national centres of research and development.
Does the US stand alone?
The US may have trouble assembling a counter-coalition to oppose CCCC and BRI projects in general.
It failed to prevent most of its allies from joining the China-led Asian Infrastructure Investment Bank, including the UK, India, Israel, South Korea and Australia. This shows that even stalwart allies won't automatically follow the US line if they perceive it to be against their economic interests.
Washington's tone is harsher than that of many Western allies. In the case of the European Union, a recent paper by the US-based think-tank the Peterson Institute of International Economics notes that the EU's attitude to the Belt and Road has yet to coalesce, but that it has "a profoundly distinct perspective from that of the US", and that although Chinese investment presents challenges, there are also potential benefits.
This could be the case for the developed world as a whole. A 2018 report by the Organisation of Economic Cooperation and Development (OECD) described the initiative as important to Asia's economic future.
It noted that Asia needs $26 trillion in infrastructure investment by 2030 and that China's infrastructure investments have positive impacts on countries involved.
Other Western countries have actively solicited Chinese investment. Most recently, the authorities governing the ports of Trieste and Genoa signed cooperation agreements with CCCC during President Xi Jinping's visit to Rome in March last year (see further reading).
The Carnegie Endowment for International Peace cites a 2017 report by academics at the University of Bologna that argues that Italy's political class became convinced of the benefits of seeking Chinese investment after seeing the example of the Greek port of Piraeus. After Chinese shipping company Cosco Pacific bought a controlling interest in the port in 2016, it attracted 13% of Chinese trade to Europe, compared with 2% seven years earlier.
Other European countries have been cooler. For example, President Macron of France said last year that "for many years we had an uncoordinated approach and China took advantage of our divisions", adding "the time of European naïveté is ended".
So far, America's attempts to hinder China's growing influence and improve its own trade position have had mixed results.
Although the campaign against the adoption of Huawei's 5G technology has been successful in a number of important markets, including the UK, it has, as The Economist commented back in May, also provided a stimulus to China's domestic technology industry.
And the wider campaign against Chinese trade has led to Chinese firms seeking alterative suppliers, helping to increase the US' deficit with China to just over 2% of GDP, while America's global trade deficit has expanded by 8%.
Nevertheless, both the BRI and the US' opposition are in their early stages, and it is likely that both will undergo significant developments in the next few years.
Top image: Washington has singled out CCCC as the embodiment of Chinese "predatory" foreign policy (Dreamstime)
Further reading: