2 July 2013
Weak economic fundamentals and stagnant or declining population levels mean Western Europe is going to miss out entirely on the huge growth in construction output globally from here to 2025, according to a new report.
In fact, Western European construction output will be almost 5% smaller in 2025 than its pre-recession peak in 2007, prompting authors of the study to proclaim a "lost decade in Europe".
World construction output will grow by more than 70% to $15 trillion worldwide by 2025, but China, India and the US will account for almost 60% of that growth, says the study, "Global Construction 2025", produced by Global Construction Perspectives and Oxford Economics, and co-sponsored by the Chartered Institute of Building.
Output in Western Europe has stabilised after the financial crisis, but the continuing effects of population decline, sovereign debt pressures and economic stagnation mean companies hoping to expand internationally will need to look east to Asia and west to North America.
With household purchasing power declining amid declining real wages and record-high unemployment, demand for residential construction will be flat, the report says.
The report's authors believe that cash-strapped governments have little room to manoeuvre in commissioning significant new infrastructure, and that the Eurozone's deep-rooted financial woes dampens private sector investment in built assets.
The report, released Monday, predicts that construction growth will not rise above 2% in any year between now and 2025.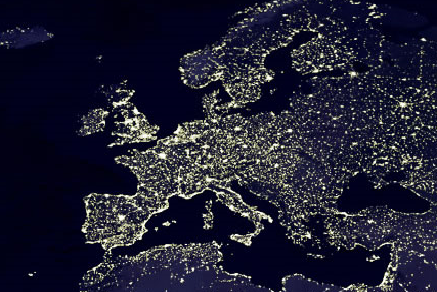 (Un mec de l'espace/Wikimedia)
Germany will remain the biggest market in Western Europe, but its population is expected to shrink by almost 2 million by 2025, leading to less demand for new homes, the report says.
A corresponding reduction in Germany's working age population would depress demand for new factories and offices.
The report predicts that by 2025 construction output in Spain will be 25% less than its 2007 pre-recession peak.
There the housing bubble, during which the country saw 450,000 home completions on average per year, has definitely burst. The report says housing completions may eventually creep back up to around 170,000 per year by 2025.
Led by Russia and Turkey, Eastern Europe will do much better, the report says. It forecasts that construction output there will increase on average by 4.6% per year until 2025, driven by efforts to modernise infrastructure.
The other bright spot on the continent of gloom is the UK.
The report claims that the UK's pressing need to modernise its infrastructure and address its growing housing deficit, plus new investment in property and infrastructure from China and the Middle East, will lead to a construction output growth rate double that of Western Europe's to 2025.
Overall, the findings point to the shift of global economic dynamism West to East, the report's authors say.
"World construction markets are at a tipping point already with 52% of all construction activity in emerging markets today," said Graham Robinson, Executive Director, Global Construction Perspectives.
"We expect to see this increasing to 63% by 2025, with China and India contributing most to growth in emerging markets,"
China overtook the US to become the world's largest construction market in 2010, the report notes, and is expected to increase its global share from 18% today to 26% in 2025, despite an expected slowdown.