A $50m e-sports stadium called Fusion Arena will be built in Philadelphia, Pennsylvania's largest city. The 3,500-capacity arena will be the home of Philadelphia Fusion, a professional e-sports team for the game Overwatch, but will also broadcast competitive gaming events.
Designed by American sports architect Populous, the 5,574 sq m building will incorporate industrial materials throughout, paying tribute to Philadelphia's heritage as the "workshop of the world".
The project will have a 557 sq m entrance hall, and inside the arena, a 185 sq m display, 9m above seated fans. A further 929 sq m space will be used as a training facility, broadcast studio and team offices.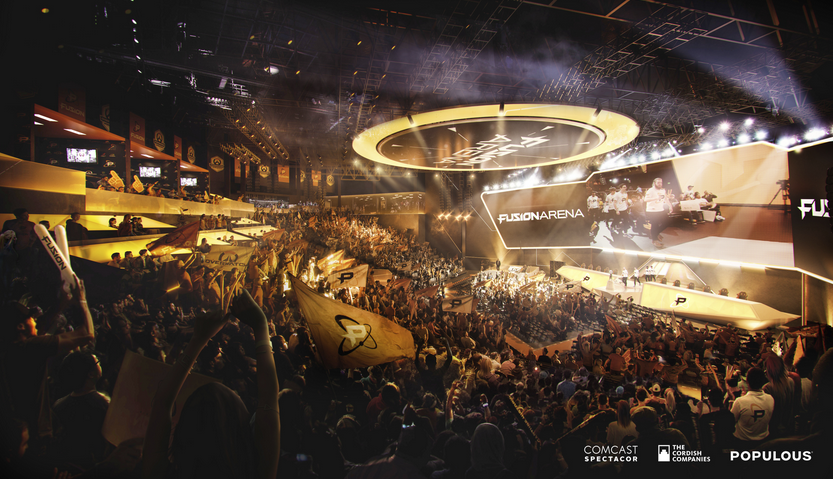 The arena is being built on behalf of Comcast Spectacor, the owner of Philadelphia Fusion and the American sports division of telecommunications giant Comcast, and Baltimore estate agent the Cordish Companies.
Competitive video gaming, known as e-sports, is a lucrative industry, with estimates that it will be worth $1.1bn in revenue in 2019.
The development will be the largest new-construction, purpose-built e-sports arena in the Western Hemisphere. Construction is due to begin this summer, adjacent to sports complex Xfinity Live!
Dave Scott, Comcast Spectacor chairman, said: "Fusion Arena gives e-sports fans a best-in-class venue to call home and be proud of. Beyond competitive gaming, it's a stunning facility that will host a wide array of events."
Brian Mirakian, Populous' senior principal, said: "Fusion Arena represents a watershed moment for the competitive gaming market. We're taking our 35 years of designing iconic experiences for traditional sports – settings like Yankee Stadium – and applying those same principles of design to the virtual world of gaming."
Images courtesy of Populous/Comcast