A teenager when the Syrian civil war erupted, architect Hussam Wali describes how local charities preserved community and civilisation amid the chaos, and why they should now lead the country's reconstruction.
It is through two very different lenses that we in Syria witnessed all phases of the war, from the uprisings at the beginning to the early recovery that has now begun. One lens is the international media, and the other is the reality on the ground.
I don't say that media reports or reports from organisations like the UN are always incorrect, but they are usually incomplete.
One thing they cannot show is how actively engaged ordinary people were, and are, in helping themselves to survive the crises and to rebuild devastated communities.
I write from Homs, which is barely recognisable from its pre-war state. Schools closed to become collective shelters. The formal economy was wrecked, and many people have no incomes. Over half of the Syrian population has been displaced internally and externally. Buildings, whole streets and districts, have been damaged or destroyed.
But "Homsis", as we're called, have been very busy. There are more than 50 charities in this city alone working on different projects, such as caring for orphans, providing education and health services, setting up small businesses, and housing people whose homes are no more. Some are funded by international donors, but many are funded by Homsis themselves.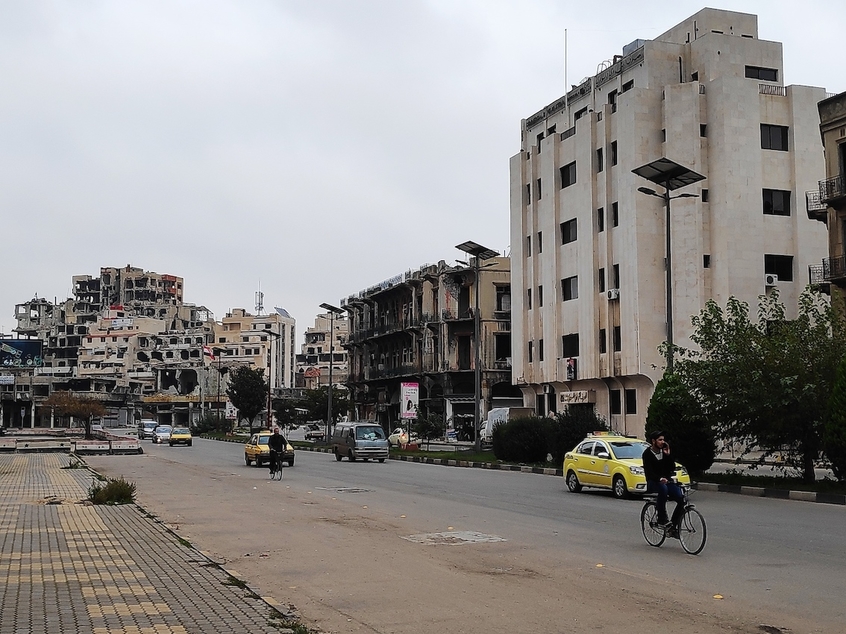 Al Quatli Street, Homs, used to be full of people and shops (Hussam Wali)
I joined the charity Al Birr as a volunteer in 2014 at the age of 19. It has more than 500 volunteers working on different projects that include running its hospital, one of the largest in Syria, which stayed open.
Since graduating with an architecture degree in 2017, I have been working with an active team of architects to discuss reconstruction, a sensitive stage that we now face.
When it comes time to rebuild, my sincere wish is that these thousands of people, who have been working on the ground for the duration, and who know the city and its people's needs, take a leading role.
The loss will be incalculable if they are ignored, and if responsibility goes to international investors and property developers.
Even before the war, the heritage and culture of Homs was under threat. For instance, the Raghdan Palace Hotel, one of the city's oldest, was built in the 1940s using the black basalt Homs is famous for. (Homs is also known as the City of the Black Stones.) But the basalt was painted over in an attempt to "modernise" the building.
The issue of memory in the social and built fabric is terribly important. We have to remember this part of Syria's past, and the crises people have been through since 2011.
Some scars must be preserved, as happened in Japan after the Second World War, when the ruined Hiroshima Dome became a peace memorial.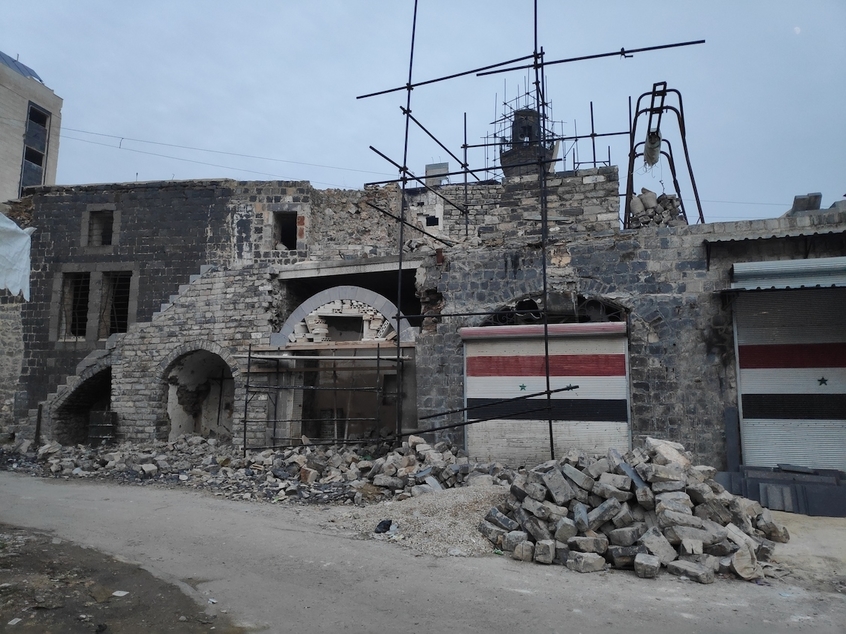 Damaged Al Dalati Mosque, Homs, December 2018 (Hussam Wali)
People's stories must be narrated for the coming generations. Architecture can help link the city's past with its future. This will raise difficult questions about how much to remember, and how much to forget. Mosques such as Al-Zawya Mosque in the Old City are being rehabilitated to their pre-2011 state, but will this erase memory?
Only the people of Homs and other cities can work through these questions. Leaving it to investors and developers who do not understand local history, culture and the social fabric will lead to bad and inappropriate plans.
Charities allowed people to preserve community and civilisation in an era of chaos and barbarity, and now they are an invaluable resource.
Consider that in the years of war they demonstrated a high level of flexibility in the way they responded to the emergency situation. Now, they can help meet the challenge of reconstruction.
Consider, too, that each charity is a participative community, with deep and unique links to the people they help. They can keep engaging to avoid any inappropriate manipulation of the process of reconstruction. They can ensure the reconstruction helps the impacted communities.
Pre-2011, charities generated discussions on the problems facing society. These discussions attract local people, who come up with good ideas and practical solutions. In the reconstruction, charities can help impacted communities understand the sensitivities and how to deal with them. They can look at the mistakes and successes of other cities in other wars.
Reconstruction needs to happen from the ground up, led by the people, not imposed with superficial consultative processes.
Top image: Raghdan Palace Hotel's basalt stonework was painted over even before the war (All images courtesy of Hussam Wali)
Hussam Wali studied architecture at Al-Baath University and worked with the charity Al-Birr throughout the war in the city of Homs. This article was translated by Arup's Ammar Azzouz.