What is due to become the world's largest ferris wheel will be located off the Palm Jumeirah resort in Dubai.
The wheel will be located on the $1.6bn 'Bluewaters' island development, which will feature retail, residential, hospitality and entertainment zones.
The 210m structure (pictured) will offer views of the of Dubai's coastline and landmarks such as Burj Al Arab, dubbed the "world's most luxurious hotel" and the Burj Khalifa, the tallest building in the world.
The piazza at the base of the wheel will serve as an entertainment zone and a unique venue for private parties, weddings and conferences.
A large LED screen mounted on the wheel will broadcast videos, advertisements, and information.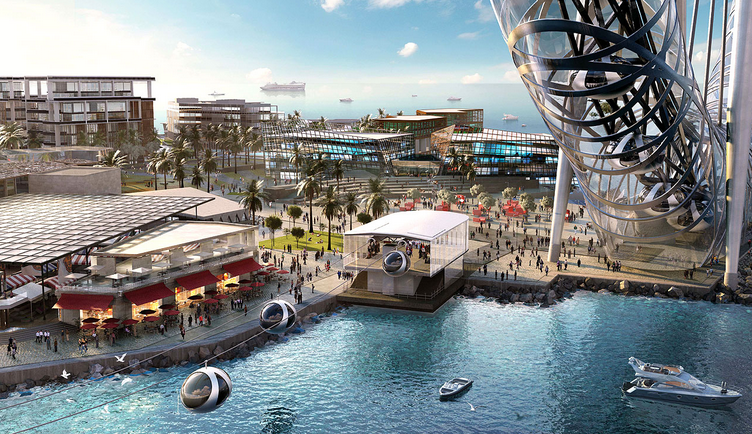 Bluewaters island will feature a bespoke "souq", an open-air marketplace or commercial quarter.
The souq will be encircled by a promenade that will contain alfresco dining outlets and host an eclectic mix of retail stores and a 'food hall' offering fresh produce in a traditional 'market' atmosphere.
Bluewaters will host a boutique five star hotel and varied residential options.
Habtoor Leighton are currently involved in the construction of the road leading to Bluewaters island which is due to be  completed by 2016.
The 135m London Eye was world's tallest Ferris wheel from 1999 to 2006 when it was overtaken by the 'Star of Nanchang' in China (160m), which was itself surpassed by the 'Singapore Flyer' (165m) in 2008.
The Dubai wheel will beat the 168m 'High Roller' in Las Vegas, US, which opened to the public in March last year.
Images via Meraas