Work has started on what will be Liberia's only public library after a devastating period of civil war in the West African country.
Designed by Canadian architect McCallumSather, the project is funded by a group of charities led by a Hamilton, Ontario-based organisation, Empowerment Squared, which is headed by a Liberian war refugee.
The US$1.5m project is being built in Paynesville, a suburb of the capital Monrovia with a growing population of about a million.
It will be built on land donated by the city in three phases, as funding is obtained.
The first phase will include a learning centre, library, and hub for personal and professional development.
The charities will also provide staff and pay the centre's operating expenses for its first three years.
The second phase will be a recreational facility and the third will involve the renovation of a town hall conference centre.
Community groups plan to teach reading and computer skills to people in a catchment area of around 100,000 people. Liberia's adult literacy rate currently stands at 48%.
As well as books and periodicals, the library will have sound recordings, film, and digital materials. The public will be able to use computers, photocopiers, printers, and projectors.
A journey from refugee camps to university
Leo Lekpele Nupolu Johnson, the head of Empowerment Squared, told an audience at the Paynesville Town Hall that the centre would later expand to include a children's library.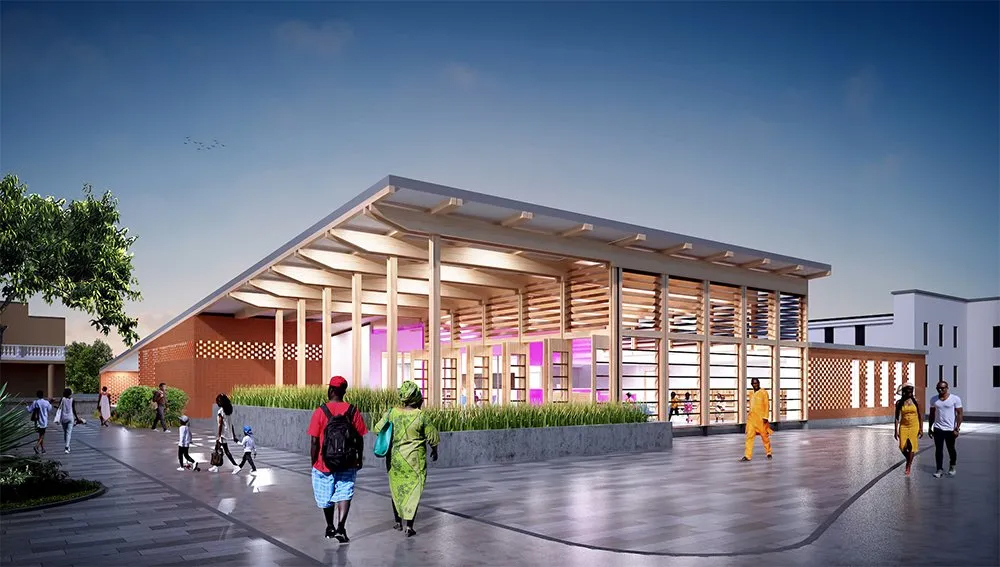 Johnson fled Paynesville in 1998 at the age of 15. He arrived in Canada in 2006 after spending eight years in refugee camps. He graduated from Hamilton's McMaster University in 2011 with a degree in political science, after which he founded Empowerment Squared to promote access to education and lifelong learning.
Willems Ransom, the lead architect on the project, told Canada's Daily Commercial News in 2020 that although the project was small, it would have a huge impact on the city. 
He said the building was designed for sustainability. Its roof forms a large, south-facing surface to harvest solar energy and rainwater.
"By necessity, this will be a very green building. It will produce its own power; it will store and treat its own water on site," he said.
He added that local labour and building materials would be used.
Liberia suffered two civil wars between 1989 and 2003. This caused the deaths of around 50,000 people and the displacement of 750,000 more, and was marked by the widespread use of child soldiers. It also destroyed the country's existing libraries and 70% of its schools.
Since then, the country suffered one of the worst ebola outbreaks, made worse by the fact that the country had only 50 doctors to treat its 4.3 million people.