The first carved soapstone block has been laid on an ancient-style Indian temple in Karnataka that was designed by an architecture professor in Wales.
The ceremony in Ventakapura marked the culmination of nearly eight years of design and planning by Adam Hardy, who had immersed himself in a style dating back a thousand years.
Master craftsmen proficient in the Hoysala style of sculpture were chosen to work on the Maharaja of Mysore, and to train apprentices.
The seven-acre project will have a 33-metre-tall main tower, with the main temple described as a "new manifestation of the ancient Hoysala style that became prominent between the 11th and 14th centuries in south western parts of Karnataka".
When completed, the temple will provide a setting for music and dance performances, as well as hosting thousands of worshippers and tourists every year.
The temple will be made of blue-grey soapstone and will include detailed iconography and carved ornaments. It is dedicated to Shree Venkateshvara, a form of Vishnu.
Hardy, a professor of Asian Architecture at Cardiff University's Welsh School of Architecture, has been studying the subject for over 35 years.
He became involved in the project after a chance encounter between one of his PhD students and a public trust based in India that was looking to build a new temple in the Hoysala style.
Just as Barcelona's La Sagrada Família is an ongoing work, Hardy has still to design the finer details of the temple, such as the external mouldings, numerous pillars, ceilings and miniature temple designs adorning the exterior walls.
It is quite an undertaking.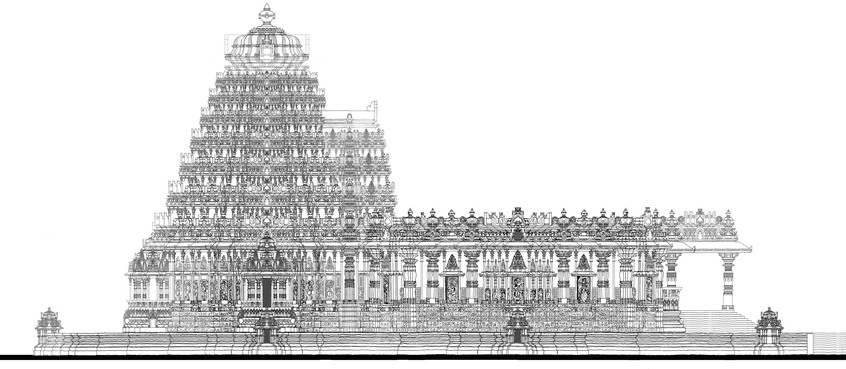 The side view of the temple
"This involves drawing all the details in full-size to make sure that the profiles are right, and coordinating all the proportions in relation to an astrological calculation of the breadth of the plan," he said.
"As such, very few of the dimensions turn out to be whole numbers – an added complication!
"I have tried not so much to design the temple as to let it emerge out of the architectural principles by which the medieval tradition developed.
"Those, together with the iconographic requirements – the images of the gods and their placement – generated the temple form in a way that seemed natural and inevitable."
Full construction of the temple expected to take around 12 years.
Images courtesy of Cardiff University