3 May 2013
A consortium led by Spanish contractors, Acciona and Sener, and South African firm TSK Construction, has been chosen to build the world's largest concentrated solar power plant near the southern Moroccan city of Ouarzazate.
The contract was awarded on 30 April by Acwa Power International, the Saudi Arabian firm that is managing the project, Reuters has reported.
Work on the $1-billion, 160 MW scheme will start immediately, with completion scheduled for the second half of 2015.
It is part of a programme of solar power construction being rolled out by the Moroccan government, which plans to produce 2 gigawatts of solar energy a year by 2020.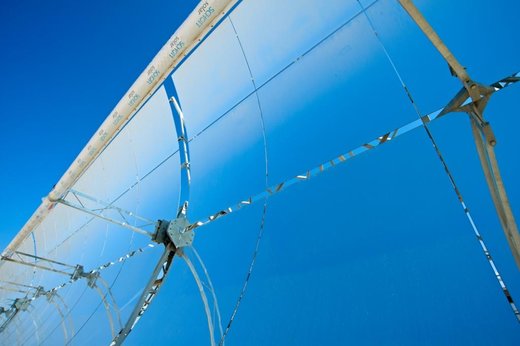 A detail of the Shams 1 concentrated solar power facility in Abu Dhabi, which began operation last year. (Credit: Shams)
Much of this energy will be exported to the EU.
The Moroccan Agency for Solar Energy is presently selecting bidders for another plant at the Ouarzazate Solar Facility, with a capacity of 300 MW.
A tender is expected to be published this month.
Concentrated solar power stations use parabolic mirrors to focus the sun's energy onto pipes filled with fluid.
The heat collected is then converted into electricity by a steam turbine. The largest plant in the world is presently Shams 1 in Abu Dhabi, which cover 2.5 square kilometres and has an output of 100 megawatts.