6 May 2014
The Kelpies, two 300-tonne, 30m tall horse heads engineered by Atkins, have opened to the public in Scotland, UK.
Part of the new 350 hectare Helix Park in Falkirk, they are the biggest art installation in the country and the largest equine sculptures in the world.
Forming a dramatic entrance to the Forth and Clyde canal which crosses central Scotland, the sculptures are hoped to draw 350,000 visitors to the area each year. Visitors can walk inside the sculptures to examine the complex internal structure.
"The engineering of the Kelpies was extremely technical and involved a number of challenges," said John Bullock, Atkins' principal engineer.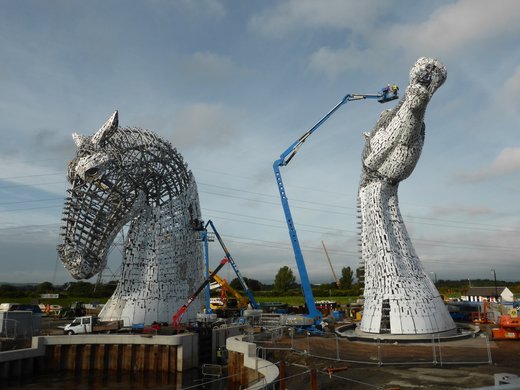 The Kelpies are the biggest art installation in the country and the largest equine sculptures in the world (Atkins)
"For example, the idea that visitors would be allowed inside the horse heads meant that we couldn't engineer normal central support columns to counteract the force of wind that the Kelpies would be exposed to on an open site.
"Because of this we had to place vertical supports at the front and back of the horse heads close to the horse's 'skin' so the visual of the internal structure for visitors wasn't compromised."
The Kelpies were based on mythological water horses which inhabit lochs and rivers in Scottish legend, and the sculptures have attracted international attention, with the draft models (scale 1:10) having been displayed in Grant Park, Chicago, Purdue University, Indiana, and most recently, Bryant Park, New York, in the United States.
A programme called 'Creating The Kelpies' will be airing tonight at 9pm on BBC2 Scotland, featuring John and another Atkins engineer, Felicity Starr.
Atkins has been involved in the project since its beginning in 2008, having completed the initial feasibility study for Scottish Canals, a public corporation that is part of the Scottish government.
The company then worked with commissioned Glaswegian artist Andy Scott throughout, from providing feedback on his initial maquette designs to figuring out how best to achieve the horse skin appearance that he envisaged.