American firm General Electric is to build the world's largest and most powerful offshore wind turbine, capable of producing 45% more energy than current models.
Called the Haliade-X, General Electric plans to spend $400m on engineering, testing and supply chain development for the product over the next three to five years.
The Haliade-X 12MW will protrude 260m out of the sea and have 107-m-long blades, giving it a rotor diameter of 220m.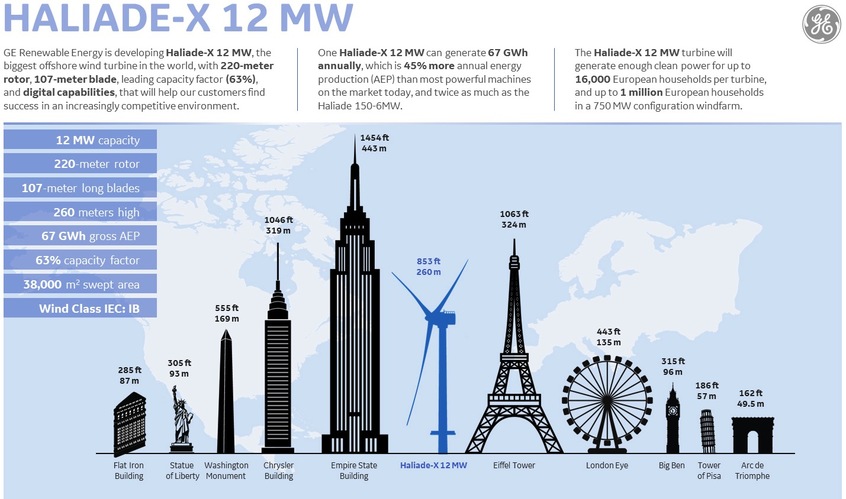 Currently the world's biggest turbine is listed by Wind Power Monthly as the Adwen AD-180, created by Gamesa and Areva, with a rotor diameter of 180m and a power rating of 8MW.
The Haliade-X turbine will be capable of producing 67GWh annually, enough to power 16,000 homes.
A 750MW windfarm would be able to power a million European homes, equivalent to a city the size of Cologne or Odessa. 
As the turbines would be more powerful, windfarms would be smaller, meaning less construction cost and risk in installation. It would also reduce operation and maintenance costs. 
General Electric plans to build a $100m manufacturing plant for the Haliade-X in Cherbourg in northern France.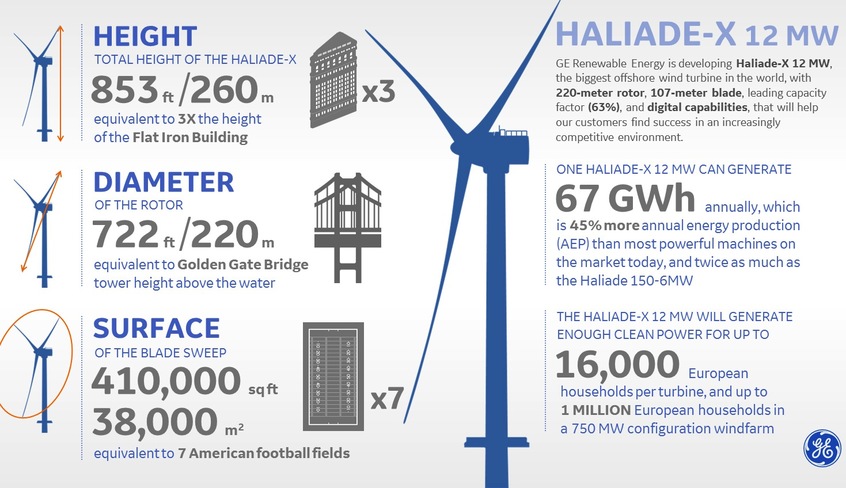 Jérôme Pécresse, General Electric Renewable Energy president, said: "The renewables industry took more than 20 years to install the first 17 GW of offshore wind.
"Today, the industry forecasts that it will install more than 90 GW over the next 12 years. This is being driven by lower cost of electricity from scale and technology.
"The Haliade-X shows GE's commitment to the offshore wind segment and will set a new benchmark for cost of electricity, thus driving more offshore growth."
The first of the turbines is due to ship in 2021. 
Images courtesy of General Electric