A sixth runway, extra cargo buildings and a new 400-room hotel were among the big-ticket items in a $6bn expansion programme unveiled last week for Hartsfield-Jackson Atlanta International Airport (ATL) in the US.
Handling 101 million passengers a year, ATL (pictured) already claims to be the world's busiest airport, but the ambitious, 20-year capital plan revealed 10 March is intended to keep it in the premier league as rivals emerge in Istanbul, Dubai and Kuala Lumpur.
"With the new capital plan, our long-term success is assured. Like the City of Atlanta, the state of our airport is ascendant," said Atlanta Mayor Kasim Reed.
A $943m sixth runway is due in 2034
The plan, which sees $1bn spent in 2017 alone, involves a new, $983m concourse by 2023, a terminal modernisation programme between now and 2018 worth $393m, and new passenger transit facilities priced at $307m.
A new $500m hotel, plaza and mixed-use commercial complex is scheduled for completion in 2018.
Parking capacity will be increased with a variety of measures, including the tearing down and replacement of the North and South garages, a job priced at $665m.
More than $200m will be spent on at least three new cargo buildings.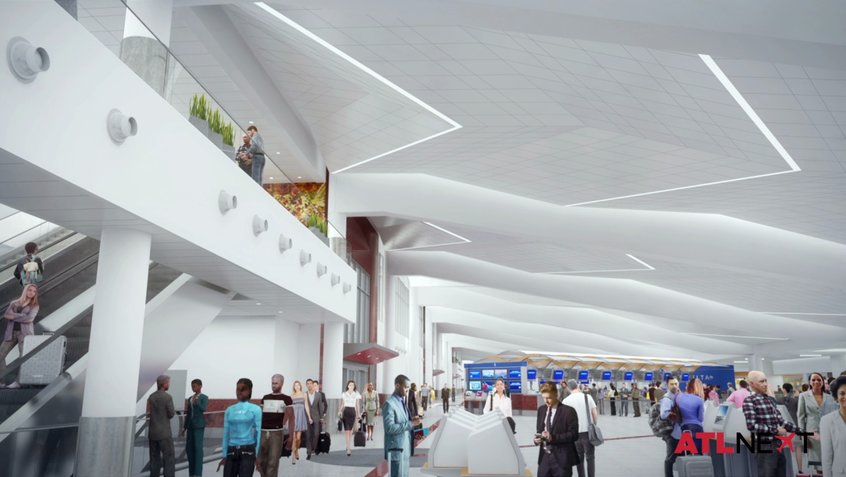 Artist's render showing planned new ticketing hall (ATL)
Crowning the taxiway and runway improvement plan is a $943m sixth runway, due in 2034.
"We have had tremendous growth over the last year, and with our new capital plan, the next 20 years are only going to be more impressive," said ATL General Manager Miguel Southwell. "Not only will these projects be transformational for the airport, but they will enable the needed expansion to accommodate the growing demand we have at Hartsfield-Jackson."
The plan is ambitious, but is unlikely to stop ATL being knocked off its perch as the world's busiest airport. As GCR reported in 2014, a new generation of "aviation mega-cities" is emerging in the Middle East and Asia as rising incomes and development plans moves the concentration of air transport facilities from west to east.
Top photograph: Hartsfield-Jackson Atlanta International Airport, from the air, in 2010 (Craig Butz/Wikimedia Commons)