Germany's global formwork and scaffolding manufacturer, Peri, continues its advance into 3D printing by using the process to build the world's first commercial apartment building in Wallenhausen, Germany.
The 380-sq-m, three-storey building will have five rental units, and was commissioned by Michael Rupp Bauunternehmung GmbH, a family-owned construction company interested in the technology.
Peri is using the BOD2 construction printer made by Danish manufacturer Cobod, in which Peri bought a stake in October 2018. 
"This is not a research nor demo project but is made for profit," Cobod said in a press release.
"This new German project is really a great milestone as the commercial nature of the building proves the competitiveness of the 3D construction printing technology for three-floor buildings and apartment buildings," said Cobod founder Henrik Lund-Nielsen.
See it being printed here:
 
Peri's innovation and marketing director Thomas Imbacher said his company was "very confident that 3D construction printing will become increasingly important in certain market segments over the coming years and has considerable potential".
Concurring was Sebastian Rupp, described as the future managing director at Michael Rupp Bauunternehmung, who said: "We believe that this new technology has enormous potential for the future, and we want to help shape that future."
With its modular assembly, the BOD2 printer can cover areas needed for multi-story buildings, Cobod said. In Wallenhausen, the space BOD2's operates in is 12.5m wide, 20m long and 7.5m high.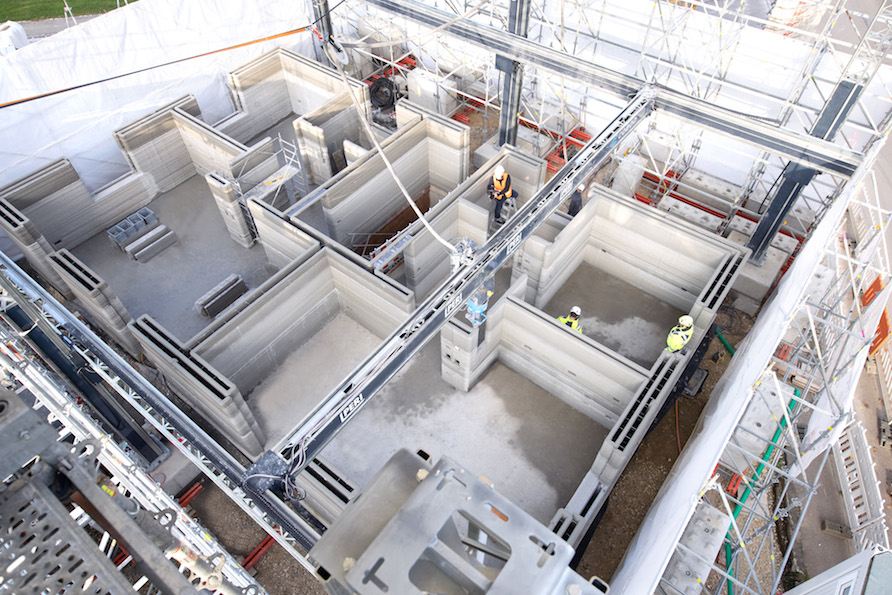 With its modular assembly, the BOD2 printer can cover areas needed for multi-story buildings (Courtesy of Cobod)
The printer has a maximum speed of 100cm/sec, equivalent to casting 10 tons of concrete an hour with only two printing operators required.
The Wallenhausen apartment building comes after Peri revealed it was printing a 160-sq-m, two-storey house in North Rhine-Westphalia. 
Cobod's customer Kamp C is also completing a two-story printed building in Belgium.
Top image: Artist's render of the three-storey apartment building in Wallenhausen, Germany, when complete (Courtesy of Cobod)