US plant maker Caterpillar has teamed with Dutch distributor Pon Equipment to develop a 26-ton electric excavator with a 300kWh battery pack. Caterpillar says it is the largest electric excavator ever built.
The company already delivered a prototype to Veidekke, Norway's largest contractor, which plans to use eight of them.
The machine is a Caterpillar 323F Z-line model fitted with a 3.4 ton battery pack, which can store around five times as much energy as a medium-range Tesla 3. Veidekke says it can work for between five and seven hours before requiring a recharge. Â 
Erik Sollerud, chief executive of Pon Equipment, said: "Our mechanics have been rebuilding, adapting and testing for over a year together with specialists from Caterpillar. Among other things, the engine and diesel tank have been replaced with electric motor, motor controllers and heavy duty lithium batteries.
"Along the way, we were lucky enough to bring us Veidekke. It's willingness to join was important, and we will cooperate in the development of future machines for sites in the larger cities and where requirements for emissions are strict."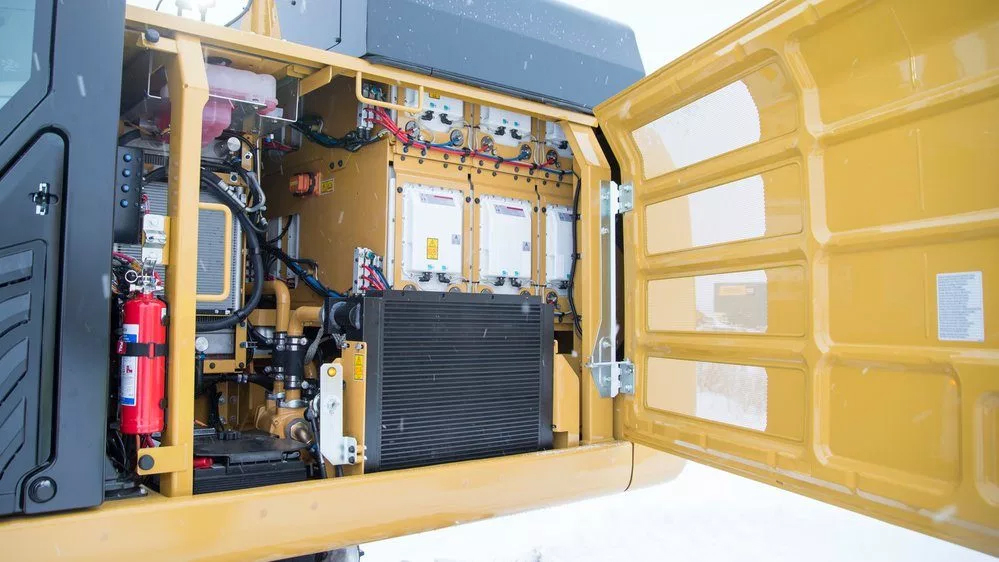 3.5 tons of lithium batteries (Veidekke)
Knut Egge, Veidekke's machine manager, commented: "It's often the case that practical experience with machines is the key to finding the best solutions. Therefore, we are proud to be the first to have such an excavator and that we will thus have to contribute to moving boundaries."
The excavator's powertrain includes a 122kW electric motor, which remains almost silent, although the hydraulic pumps can be heard.
Top image: The first prototype excavator (Veidekke)
Further reading: