Canadian engineer WSP will act as design and engineering adviser for Texas Central, the company developing a high-speed railway between Houston and Dallas.
Texas Central said it picked WSP USA, formerly known as WSP Parsons Brinckerhoff, because of its "award-winning experience in designing infrastructure projects". WSP will offer engineering, cost estimating and project management advice.
The 240km link between the two big cities will use Japanese Shinkansen locomotives travelling at 330km/h, cutting the commute from a 3.5-hour drive to about 90 minutes.
In August Texas Central said that Fluor Enterprises and the Lane Construction Corporation, a subsidiary of Italian contractor Salini Impregilo, would construct the $12bn line on a design-and-build basis.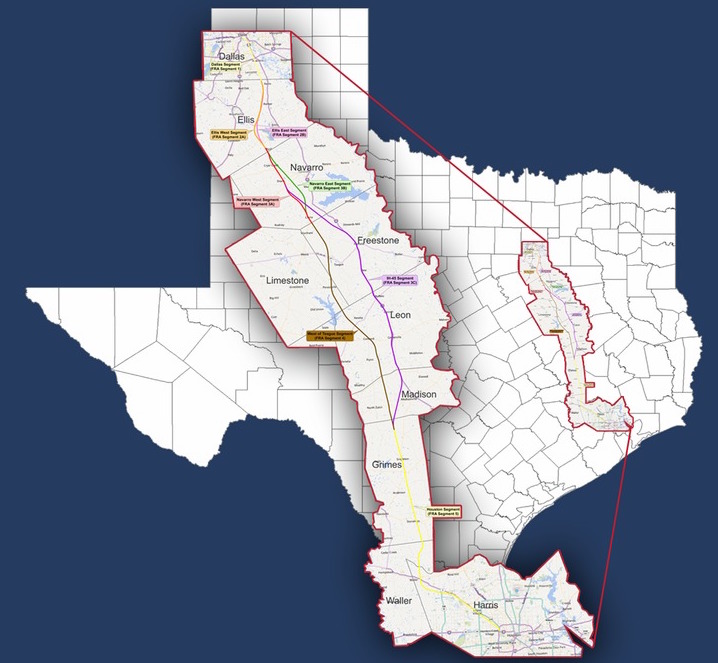 The super-commute route from Dallas to Houston. A San Antonio link may follow (Komatsu)
Carlos Aguilar, the chief executive of Texas Central, commented in a press statement: "We are excited to partner with WSP, a company that has been involved in many iconic transportation projects around the world. This further demonstrates the attention the Texas Bullet Train has received from world-class firms with such scale and experience."
Joseph Pulicare, the president of transportation and infrastructure for WSP USA, said: "WSP's expertise in major infrastructure projects and our team of seasoned professionals position us well to ramp up quickly in support of the Texas Bullet Train."
WSP has been involved in high-speed rail schemes in Taiwan, China, the UK and, most recently, the high-speed rail system between Kuala Lumpur and Singapore.
Image: A Japanese 500 series Shinkansen train passing Maibara Station on the Nozomi 29 service (Kubotake/Wikimedia Commons). This photograph replaces an earlier photograph of a model Shinkansen. Thanks for your comments.
Further reading