Zaha Hadid Architects (ZHA) and Norwegian architect A_Lab have won a competition to design two stations for the planned Fornebubanen metro line in Oslo.
Fornbuporten and Fornebu Senter stations are two of six stations on the 8km line, which will link Majorstuen interchange station in Oslo's city centre to Fornebu Senter on the Fornebu peninsula, a redevelopment of Olso's former airport which was closed in 1998.
When completed, the peninsula scheme will create 6,000 homes and 25,000 jobs.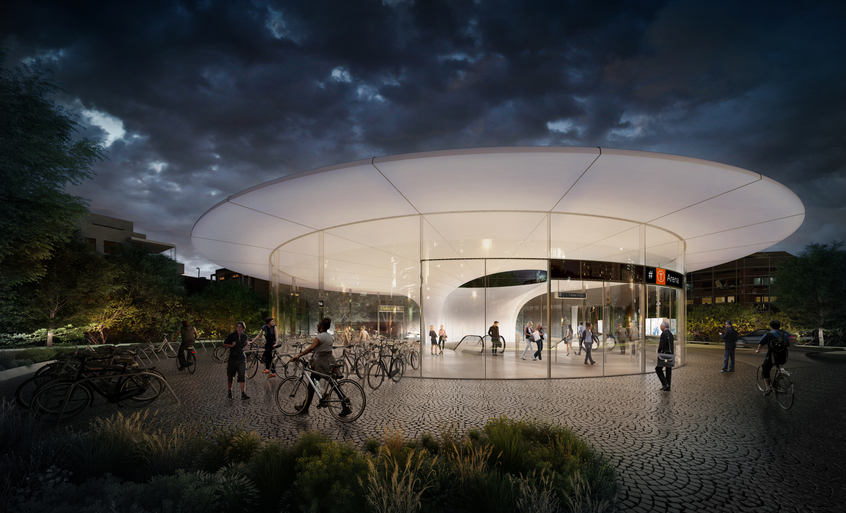 Fornbuporten Station's north entrance (ZHA and VA)
Construction of the Fornebubanen line is planned to begin in 2020 and be completed in 2025.
A full journey on the line will take 12 minutes and pass through six new stations: Skøyen, Vækerø, Lysaker, Fornebuporten, Flytårnet and Fornebu Senter.
    
Fornebu Senter station's design is inspired by Norway's mountainous landscapes and fjords that have eroded over time, with what ZHA describes as "public plazas at street level  (that) transform fluidly into entrances at either end of the station".
ZHA said in a press release that the entrances at either end of Fornbuporten station will become "two distinct civic spaces at street level".
Fornbuporten Station platform, showing the differences in light at 10am and 8pm (ZHA and VA)
The design inside the station will embrace the "light that varies with the ever-changing Oslo sky", with "atmospheric lighting (fluctuating) in tune with the time of day to enhance passengers' well-being".
Gianluca Racana, director of Zaha Hadid Architects, said: "It is an honour to be selected by the jury to build two stations in this design competition with many talented architectural practices. The Fornebubanen will be a vital new transport link for the city."Â Â Â 
Fornebu Senter Station's east entrance (ZHA and VA)
Geir Haaversen, general manager and founder of A_Lab, said: "People have been waiting for the Fornebubanen for a long time. The design of these stations will be crucial for the development of their locations."Â Â Â  Â 
ZHA and A_Lab's design was selected after anonymous proposals from 14 different teams were assessed by the competition jury.
Top image: Fornebu Senter Station's east entrance, all images courtesy of ZHA and V