A research centre designed by Zaha Hadid Architects (ZHA) has been named Saudi Arabia's smartest building.
The King Abdullah Petroleum Studies and Research Centre (KAPSARC) has a modular design based on the hexagonal structure of a honeycomb. According to ZHA, this "emerges from the desert landscape, evolving to best respond to the environmental conditions and internal programme requirements".
The campus buildings surround a courtyard shaded by canopies supported by a forest of steel columns. It presents a solid shell to the torrid sunlight from the south, and opens up to north and west, allowing the prevailing winds to cool the courtyard during temperate months and preparing a future expansion of the campus to the north.
Some of the cells within each building are left open to create courtyards that bring daylight into the interior.
The projects was awarded LEED Platinum certification by the US Green Building Council.
KAPSARC is a not-for-profit institution that researches ways of using energy to promote social wellbeing.
The 70,000 sq m campus contains five buildings:
The Energy Knowledge Centre
The Energy Computer Centre
A Conference Centre with exhibition hall and 300-seat auditorium
A Research Library with archives for 100,000 volumes
The Musalla prayer area.
KAPSARC recently hosted its first public conference, with more than 20,000 visitors attending during Saudi Design Week 2017.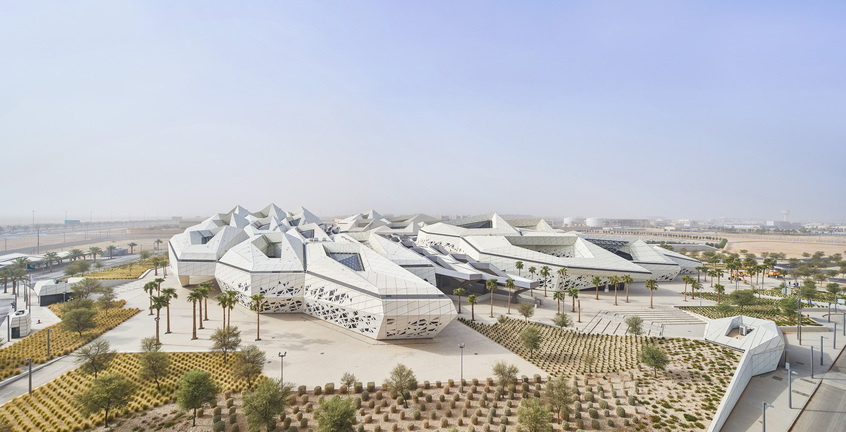 The project is located in the Riyadh Plateau.
Images courtesy of Zaha Hadid Architects & Hufton and Crow