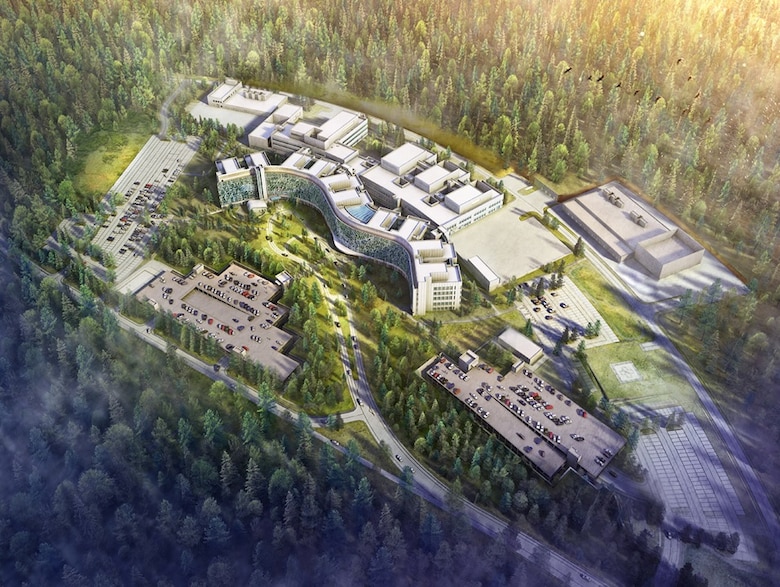 A joint venture led by German construction giant Züblin and including Gilbane Germany has won a €859m contract to build the biggest US hospital on foreign soil in Weilerbach, Germany to serve the US military.
The new, 91,509-sq-m Rhine Ordnance Barracks Medical Center will be the only forward-stationed evacuation and treatment center for injured US service members, civilians and contractors serving in Central and Southwest Asia, Europe and Africa.
The contract award was made by the German Construction Administration in partnership with the US Army Corps of Engineers and the US Defense Health Agency. The German Construction Administration is executing the project through a partnering process involving construction industry expertise at the design phase.
The hospital with nine operating rooms, 120 exam rooms, and 68 beds with a 25-bed surge capacity is expected to be completed in late 2027.
It will replace and co-locate the Landstuhl Regional Medical Center, built in 1953, and the 86th Medical Group Clinic to become the largest US medical center on foreign soil, serving 200,000 military personnel, DoD and interagency civilians and their dependents in Europe. It will employ around 2,500 people when in operation.
Already, some $200m has been spent on infrastructure including access control points, a bridge, utilities and roadways, USACE said yesterday.
The German government is contributing some €151m for design and construction management.
"The US invested approximately $350m annually in construction projects in the past few years, which are executed by the Federal Construction Administration. This demonstrates the excellent reputation the German Construction Administration enjoys with our international partners," said Sören Bartol, Parliamentary State Secretary, Federal Ministry of Housing, Urban Development and Construction.
"Furthermore, these investments boost Germany's economy and preserve jobs in economically distressed regions."