24 May 2013
The World Bank is offering $1 billion in proposed new funding for roads, hydroelectric power and other projects to help Africa's war-torn Great Lakes region in exchange for peace.
The region includes Democratic Republic of Congo (DRC), Rwanda and Uganda.
On the first day of an historic, joint UN/World Bank mission to the three countries this week the rebel group M23, active in the eastern DRC, declared a ceasefire for UN chief Ban Ki-moon's and World Bank Group President Dr. Jim Yong Kim's visit, reports the BBC.
Recently fighting erupted again between the government and M23 rebels in the resource-rich but poverty stricken DRC.
In addition to the $1 billion, UN chief Ban Ki-moon has promised an extra 3,000 UN peacekeepers to augment the 20,000-strong force already there.
The World Bank's proposed interest-free loans include nearly $500 million for hydroelectric projects, $165 million for building roads in DRC, and $180 million for improving infrastructure and border management along the Rwanda-DRC border.
Cross-border trade and economic development are key goals.
"We made extraordinary efforts to secure an additional $1 billion in funding because we believe this can be a major contributor to a lasting peace in the Great Lakes region," said the World Bank's Jim Yong Kim.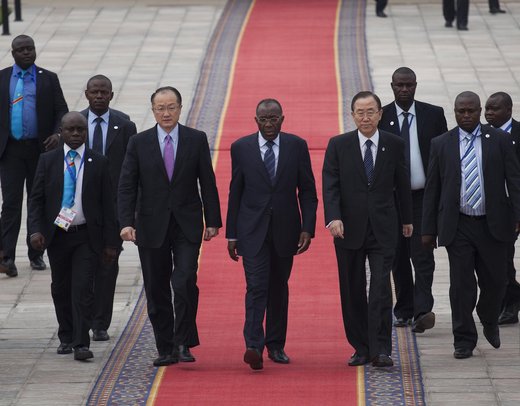 World Bank President Jim Yong Kim and UN Secretary-General Ban Ki-moon with DRC Minister of Foreign Affairs, Raymond Tshibanda on 22 May. (Credit: World Bank)
"This funding will help revitalise economic development, create jobs, and improve the lives of people who have suffered for far too long."
UN Secretary-General Ban Ki-moon said it was time for people in the region, who have endured decades of violence in DRC's civil war – often stoked by its neighbours – to be given the chance of catching up with people in other parts of Africa.
"Many countries in Africa are taking dynamic forward strides, and now the people of the Great Lakes region, especially the DRC, deserve their full chance for progress," he said. "A peace agreement must deliver a peace dividend."
In further detail the loan breaks down roughly into:
$340 million  to support the 80 megawatt Rusumo Falls hydroelectric project for Burundi, Rwanda, and Tanzania;

$150 million for the rehabilitation of the Ruzizi I and II hydroelectric projects and financing for Ruzizi III, supplying electricity for Rwanda, Burundi, and DRC;

$165 million toward building roads in DRC's North and South Kivu and Province Orientale;

$180 million for improving infrastructure and border management along the Rwanda-DRC border;

$100 million for supporting agriculture and rural livelihoods for internally displaced people and refugees in the region; and

extra millions for public health laboratories, fisheries, and trade facilitation programs among others.
See the World Bank statement here.