There are 58,500 bridges in the US right now that are not entirely safe, a trade association has warned.
The American Road & Transportation Builders Association (ARBTA) says in its annual report that although the number of structurally deficient bridges fell by 2,574 between 2014 and 2015, 58,500 – almost 10% of America's bridges – are in need of repair.
Thirteen of the suspect bridges have more than quarter of a million daily crossings each – a list that is topped by one in Orange County, California, that carries Interstate 5 over El Toro Road, which is travelled by 328,000 vehicles a day.
The most heavily-used bridges are on urban highways, particularly in California, and almost 85% were built before 1970.
The states where crossing a bridge is most hazardous are Rhode Island, Iowa and Pennsylvania, where more than 20% of all bridges require repair. By contrast, Nevada, Texas, Florida, Arizona, Utah and Washington DC have fewer than 5% of bridges classed as deficient.
The ARBTA report is based on the Federal Highway Administration's National Bridge Inventory, which was released last month. It notes that if all the deficient bridges were placed end to end they would stretch the 2,150km between New York and Miami, and that at the current rate of investment, they would take 21 years to fix.
The term "deficient" reflects a score of four or less out of a possible nine, as assessed by federal engineers.
Although this does not indicate imminent catastrophic failure, it does mean that the bridge is vulnerable to accidents. For example, in 2013 a road bridge in Washington State that was rated 57.4 out of 100 by state engineers collapsed after it was hit by a lorry carrying drilling equipment (pictured).
And in one of the most dramatic failures in recent years, an eight-lane, steel-truss-arch bridge that carried Interstate 35W across the Mississippi River in Minneapolis collapsed in 2007, killing 13 people and injuring 145 (pictured). This was bridge was rated as "structurally deficient" and in possible need of replacement owing to cracking and fatigue, according to the National Bridge Inventory database.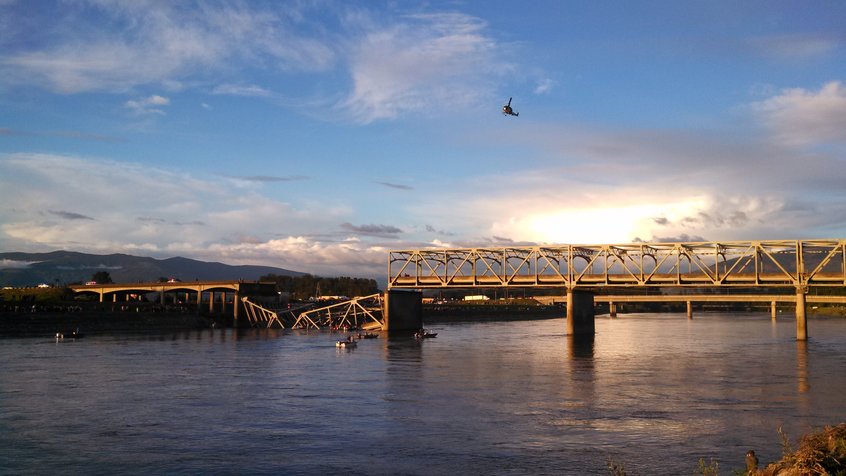 The I5 Bridge over the Skagit River in Washington State collapsed after a truck hit its trusses. (Martha T/Wikimedia Commons)
President Obama has made a number of attempts to increase federal spending on bridge repair – money from Washington makes up about 52% of total capital outlay on highways and bridges, although this varies greatly by state.
Last February Obama put forward a budget proposal for a six-year, $478bn program to build and upgrade roads, bridges, and other transit systems, to be financed by a "a one-time, 14% transition tax on the up to $2 trillion of untaxed foreign earnings that U.S. companies have already accumulated overseas".
A White House statement said: "These investments will increase infrastructure funding by over a third, support hundreds of thousands of American jobs, and lay the foundations for long-term economic growth."
In November, the House of Representatives approved a multi-year highway bill that included more than $300bn in transportation and infrastructure programmes to address the nation's deteriorating roads and bridges.
The bill, however, still fails to address a chronic shortfall in financing for the Federal Highway Trust Fund, and has been the subject of a fierce, long-running disagreement over federal tax policy.
In the past the fund was funded by a tax on petrol, which has not been increased since 1993.
An analysis of America's difficulties in funding infrastructure repair was recently offered by HBO's satirical Last Week Tonight show, and can be viewed here. 
A video of the I-35W collapse can be seen here.
Photograph: The aftermath of the 2007 Interstate 35W collapse in Minnesota (Kevin Rofidal/Wikimedia Commons)