Thirteen people have been killed and at least a dozen injured by a mudslide at the construction site of the Coca Codo Sinclair dam in Ecuador. Two of those injured are in a critical condition. 
Rafael Correa, the president of Ecuador, expressed his sympathy for the families of the victims via Twitter. 
He said: "Serious accident last night in Coca Codo. 13 confirmed dead: 10 Ecuadorians and 3 Chinese. Our condolence to their families and co-workers."Â 
He told journalists later that the accident had occurred in one of the dam's penstock tubes that bring water to the turbines, although it was not clear what the exact sequence of events had been, or whether the disaster was natural or man-made.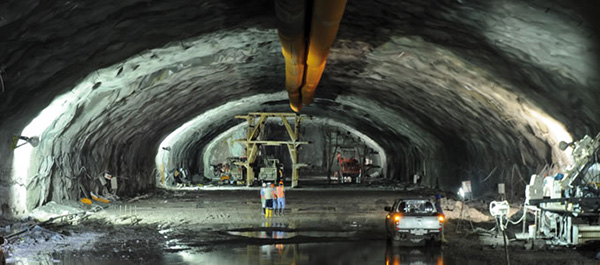 The excavated cavern for the plant (http://www.power-technology.com)
The scheme is being engineered by Chinese contractor Sinohydro. The Chinese embassy in Quito, Ecuador's capital, issued a statement that confirmed that 10 Ecuadorian and three Chinese workers lost their lives in the disaster, which took place at about 8:30pm local time on Saturday. 
Sinohydro blamed a "collapse in a pressure well" for the tragedy. The company has implemented emergency measures and is conducting an internal investigation. 
The Chinese embassy said: "We ask Chinese companies to reflect on this event, learn from this painful lesson, take appropriate measures, and increase safety to better protect Chinese and Ecuadorian workers."Â 
The $2bn plant, which is the largest ever infrastructure project in Ecuador, is expected to be operational in 2016. It will generate 1.5GW of electricity, equal to about 36% of Ecuador's energy needs.